Old Rhodian Authors 2000 Onwards
Please note that the year date depicts the first year the Author was at Rhodes and not the year the book was published.
Nathi Mhlaba (2000)

Called into women's ministry and single, Nathi shares her experience with others and has been discipling women since university.
"In a world where being a couple is being promoted, where being in a relationship is the "in" thing, single women often feel left out and have the pressure to find someone. As women, we end up meeting the wrong people and settling for second best, as we feel that God has forgotten us.
Learn how to:
• be content in your singleness and fall more in love with God
• be joyful in the NOW
• prepare for the season that you are in (by reading, listening to preaching on being single or marriage)
Being single is not a curse but a gift, and we should look at it that way."
Sylvia Ntombfuthi Ntshingila (2002)
Post-graduate in media and journalism, Futhi has not only had her first book Shameless published, she also has a job in the President's speech-writing unit. Futhi has started to write her second novel and her personal motto is, "live the life you want to and enjoy it. But always remember to keep it simple"
Shameless is about Thandiwe who shamelessly sells her body on the streets of Yeoville and views her job as no different from those of young black graduates who take up affirmative action posts as perpetual juniors under soul-destroying mentors.

Source: My Week (Maritzburg) 01 Dec 2008, Page:27
Boitumelo Ruth Sebopela (2005)
When the Sun Rises is an anthology of the author's thoughts and feelings concerning aspects of everday life. The author invites the reader into the sacred orifice of her heart and for the reader to join her in this journey. It is the author's wish that the reader will find something that speaks to them and even moves them. Another wish is for the reader to find hope in some of these works, hope that gets anew each day as the sun rises.

Published by New Voices Publishing, please e-mail alumni@ru.ac.za for details to buy the book.
Dr Pravine Naidoo (2006)

The delivery of effective and efficient municipal servies to communities should be an imperative and standard norm for sound and accountable municipal governance. Tried and tested and internationally recognised management methods and techniques aimed at enhancing municipal service delivery should be welcomed, supported and nurtured. This is according to Dr Pravine Naidoo, Rhodes Alumnus and currently based in Paarl, Western Cape at the Drakenstein Municipality.
At the recent launch and announcement of the book at the Council Meeting of Drakenstein Municipality in Paarl, Western Cape, the Executive Mayor, Advocate Gesie van Deventer stated that:
"Dr Pravine Naidoo's historic attempt to critically discuss and analyse the principles of continuous improvement methodologies and frameworks in municipal service delivery is a first in South Africa and he must be commended and congratulated for this outstanding and remarkable achievement. This book is therefore the first of its kind in South Africa and quite conceivably internationally as well".
The book titled "Quality Service Delivery – A Conceptual & Reference Guide for South African Municipalities" is a pioneering and ground-breaking book, on the application of total quality management (TQM) principles in local government management by Dr Pravine Naidoo, and it makes an immense contribution to the current discourse in South Africa and internationally on accountable service delivery. This book deals extensively on how local government managers can translate the political objectives of political parties into tangible, realistic and, most importantly, implementable and measurable policies, procedures, programmes and projects within municipal administrations, stated Adv van Deventer, the Executive Mayor.
This book will be useful for all local government managers, students, researchers as well as academics and a valuable reference guide in the discipline of municipal management. The book will be forwarded to all 23 university libraries in South Africa as well as university libraries in the USA, UK, Canada, and Commonwealth countries.
Issued by Ms May Carolissen, Chief Media & Communication Officer, Media & Communications Unit of the Drakenstein Municipality, Paarl, Western Cape, South Africa.
Tel: (021) 8076390 E-Mail: May.Carolissen@drakenstein.gov.za
Christopher Maxwell (2009)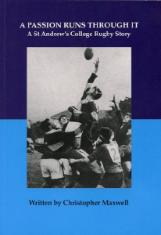 A Passion Runs Through it: A St Andrew's College Rugby Story is a story for any boy who dreams of pulling that 1st team rugby jersey over his head. It is for the boys of St Andrew's, past and present, who played rugby with pride and passion.
A Passion Runs Through it documents the origin of rugby at St Andrew's which played a big part in the origin of the sport in the Eastern Cape and South Africa.
Weaving through the years, it explores the developments made during its history whilst giving full praise to the times when 'College Rugby' was on a high.
Despite the many factual pointers, a large portion of the text is told through the voices of Old Andreans. Their words and stories of their time playing bring to life the story of rugby and are celebrated throughout the book.
The story not only looks at the rugby played as a whole but goes deep into some of the great players, teams, coaches and matches that have graced the school's fields. One of the more recent matches documented is the St Andrew's verses Grey High P.E. match played in 2005. It was a spectacular display of schoolboy rugby seen by those present on Lower field.
The schools standard of rugby is so often judged from the 1st team with no or little insight into the other teams. A Passion Runs Through it also ventures into the other teams who played well and showed the crowds that they were worth recognition. In the closing chapters the focus is turned to the boys of St Andrew's and zones in on those 'war-cries' heard from across Grahamstown.
There are 53 photographs of coaches, players, teams and of some of the key features in the St Andrew's rugby setup. However for those who are not avid St Andrew's followers, there is the early beginnings of the sport in South Africa as well as information on schools with a playing history against St Andrew's. This is for anyone who wants to know the St Andrew's rugby story.
To order the book please e-mail chris.reviresco@gmail.com