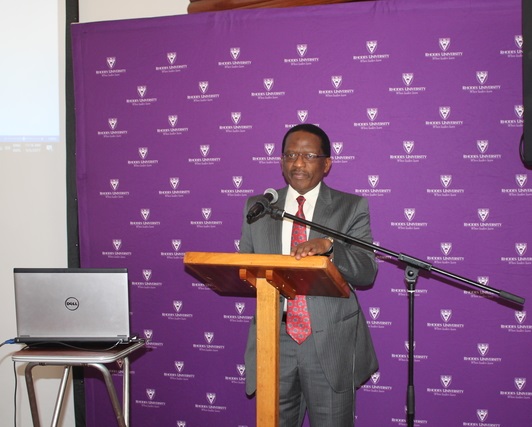 Rhodes > Communications and Advancement > Alumni Relations > Alumni Events > Latest News
Cape Town Alumni Transformation Consultations
Date Released:
Fri, 19 May 2017 10:54 +0200
This May Rhodes University kick-started the Transformation Summit Alumni Consultations as an international initiative. Alumni is the largest stakeholder group that plays a strategic role in the Rhodes community. The Alumni Transformation Task Team, consisting of the staff and students currently at Rhodes University, are interacting with the Alumni in a two-pronged approach; an online survey and consultations.
There is divergence in the views expressed, sometimes extremely sharp. There was polarisation in the debate especially about the name change but views were refreshingly not linked to race, gender, age or any of the usual fault-lines.
Although the name of the institution is a critical part of the transformation process, the consultations aim to address the issue of transformation at Rhodes as comprehensively as possible. Issues around demographics, quality, the curriculum, naming of public spaces and buildings were appreciated and acknowledged by alumni.
Alumni of all ages and races shared experiences about their lives at Rhodes University, which led to a refined understanding of what transformation within the higher education sector means and how it can be implemented, particularly at Rhodes.
Alumni was mostly in agreement in their sentiments that Rhodes University has moved away from the legacy of Cecil John Rhodes, by developing its own character and ethos with a strong desire to build an even better university, instead of one that is a shell of itself.
The Transformation Summit will be held at the end of July, responding to the call from the University Council in its pursuit of a decolonised and an equal opportunity institution.
Source:Alumni Relations