Rhodes > Communications and Advancement > Alumni Relations > Alumni Events > Latest News
give5 Students Fundraising Campaign 2016
Date Released:
Sat, 5 March 2016 12:36 +0200
Give5 Collection Week
The 5th to the 13th March was a busy period for our current Rhodents who immersed themselves in the task of raising money for give5. Over R83 800.00 was raised by the end of the week, simply from students holding events and asking for donations of R5 and more. Give5 is part of the Rhodes Alumni student engagement strategy, which seeks to introduce students to the culture of giving whilst on campus. The campaign is run by the give5 Committee consisting of students who engages with the Senior Students and Engagement Representatives from each residence, including the Oppidans, and asks all students on campus to fundraise for this cause. The money is raised for the Annual Fund, Pocket Money Fund which consists of 170 students on R170 per month. These students might be on bursaries, but do not have extra money to help them buy essentials such as deodorant or soap. The collection week culminated in the 5m Fire Walk where students and staff walked over hot coals to raise additional fund for give5. The collection week is based on a competition whereby the winning Res, which was Botha House wins a flat screen TV and the winning Hall, Founders Hall, won the give5 trophy. The Rugby Club received the Clubs and Societies Trophy. The give5 campaign does not end with the one week collection and students are asked to include give5, which is essentially Rhodents raising money for fellow Rhodents, in their fundraising efforts throughout the year.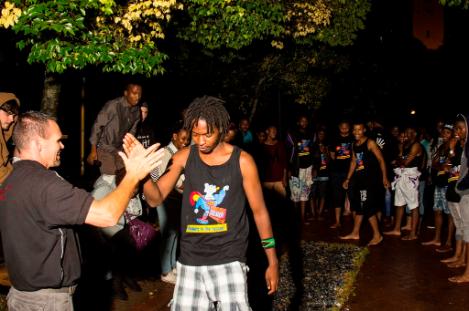 Source:Alumni Relations