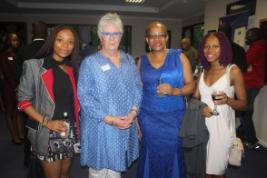 Rhodes > Communications and Advancement > Alumni Relations > Alumni Events > Latest News
Orientation Cocktail Party
Date Released:
Sat, 6 February 2016 11:30 +0200
Orientation Cocktail Party

The Orientation Cocktail Party is specifically aimed at new students who have a family connection to Rhodes and gives their Old Rhodian relative and the student the unique opportunity to meet the Vice-Chancellor, Dr Sizwe Mabizela, and other members of staff on a more personal level.
The Cocktail Party was held on Saturday 6th February at Alumni House and the evening was abuzz with students and alumni, young and old. The President of the Old Rhodian Union, Prof Walker, gave a warm welcome and explained that the Old Rhodian Union had been founded in 1911 and forms a link between past and present students and staff of Rhodes University. Active fundraising for bursaries takes place within the Old Rhodian Union and the money is used to fund bursaries for children of Old Rhodians and staff members. Dr Mabizela welcomed the Old Rhodians back to campus and explained to the first years that they were to expect a very busy year. Rhodes University is unique in its small campus and the students will receive the best academic and social experience that will equip them as leaders and ensure that they are successful in their career paths.
| | |
| --- | --- |
| | |
Source:Alumni Relations