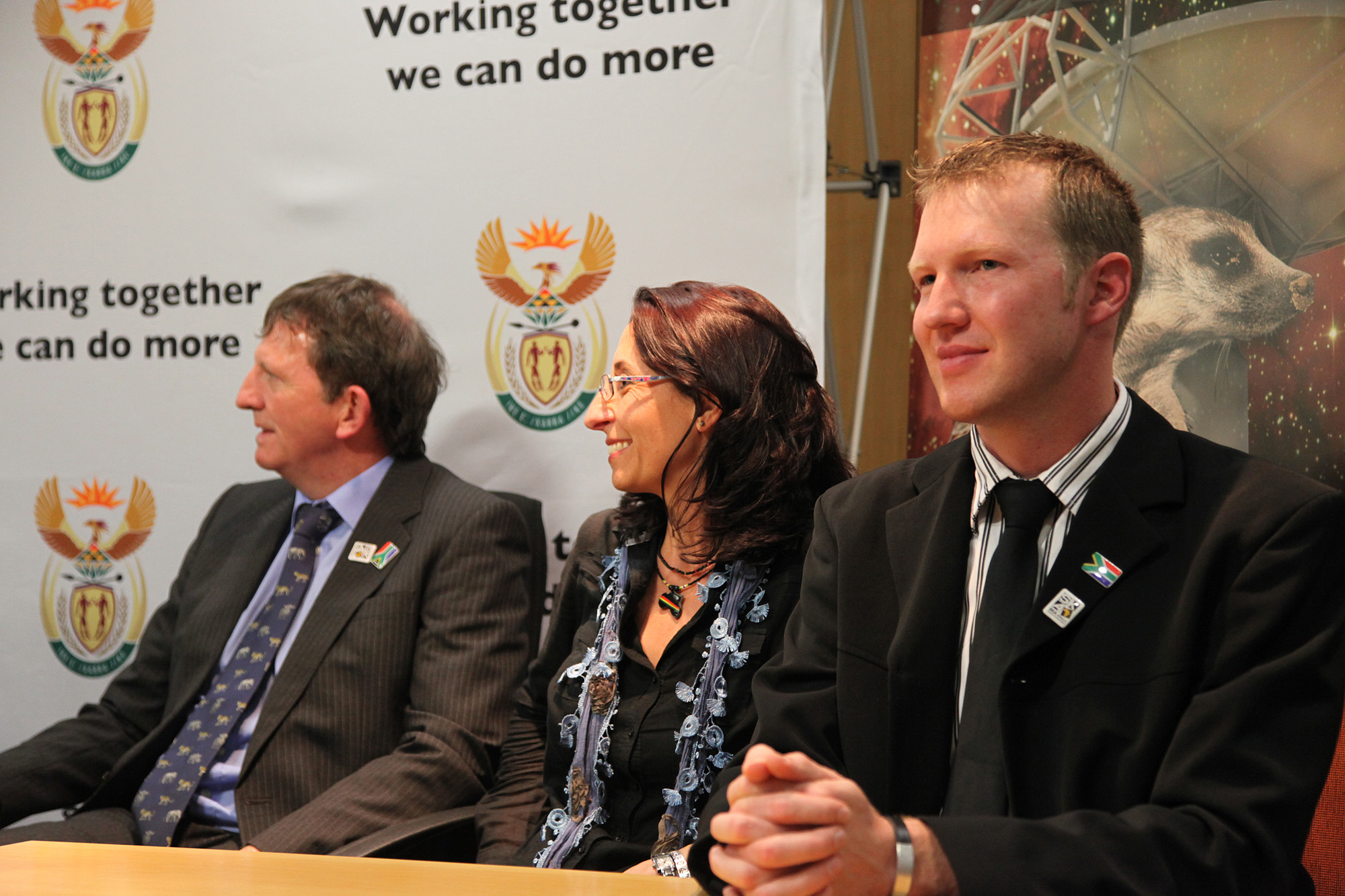 Rhodes > Communications and Advancement > Alumni Relations > Latest News
Justin Jonas (1976) and Adrian Tiplady (1997)
Date Released:
Wed, 30 May 2012 09:28 +0200
Africa Celebrates SKA Bid Outcome:
Two of our Old Rhodians were spotted at the SKA media press conference. Prof Justin Jonas, Associate Director: Science and Engineering at the SKA South Africa Project and Dr Adrian Tiplady is the Site Bid Manager.
The study of Radio Astronomy at Rhodes University goes back a long way. Professor Justin Jonas, Adrian Tiplady and a significant number of project members who were in the team that crafted the South African proposal are graduates of this programme and have seen to its success in recent times.
"Very relieved!" This is how Professor Justin Jonas, Associate Director: Science and Engineering, SKA South Africa, felt when he learned the outcome of the site bid. "We've been waiting for this decision for a very long time – it has been a long, hard road," Prof Jonas said. "Up to now the SKA project could not really move forward. At last we can now move into the really exciting phase – the detailed design and building of the SKA."
Prof Jonas, who is also at the Physics Department at Rhodes University, has been a key role player in developing and defending South Africa's SKA site bid since 2001.
"The announcement that the major portion of the gigantic SKA telescope will come to Africa is a fantastic outcome for the continent," he said. "It maximises South Africa's scientific and engineering contribution and means that all the work we've done up to now – and everything we do from here onwards – will contribute to the SKA."
"I always knew that our bid was very competitive. After we were shortlisted for hosting the SKA in 2006, we worked even harder to fine-tune our site bid and we presented an exceptionally viable and robust implementation plan for the SKA."
"We chose our site very carefully – remote enough to do the science, but not so remote that infrastructure development and operations becomes too difficult and too expensive. These were deliberate and calculated decisions based on thorough analysis of the requirements of the SKA – and it paid off!"
Professor Jonas is very excited about the implications of the SKA site decision for the role that South Africa's MeerKAT telescope will play in the future of the SKA.
"The decision recognises MeerKAT as a key instrument that will make up one quarter of SKA Phase 1 mid-frequency array, and the science planned for SKA Phase 1 is very similar to the MeerKAT science case – just much more ambitious," he explains.
"Our researchers and students who participate in the MeerKAT surveys have a huge advantage. They are well placed to enter SKA Phase 1. They have the opportunity to become science leaders in future SKA projects."
Up to 2016 South Africa will be constructing the 64 MeerKAT dishes in the Karoo and construction on 190 SKA Phase 1 dishes should start more or less when MeerKAT is complete.
"The design of the SKA dishes is not yet final, but they should look similar to the Gregorian-offset dish design chosen for MeerKAT," Prof Jonas expects.
Source: SKA website
Source:Alumni