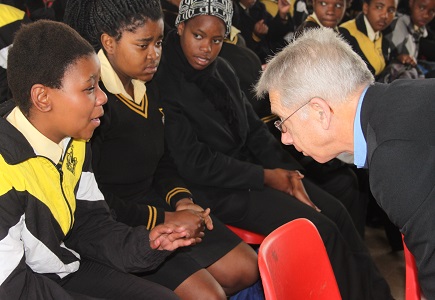 Rhodes > Community Engagement > Latest News
Career opportunities in the commerce faculty presentation for Nombulelo learners
Date Released:
Mon, 29 August 2016 10:21 +0200
By: Sibusiso Mukhari
Prof Dave Sewry the Dean of the faculty of commerce at Rhodes University, went to Nombulelelo Secondary School to do a presentation on career opportunities in the commerce faculty as a contribution to the Nelson Mandela trading live week. Those in attendance at the presentation were learners from grade 9 to grade 12. The principal of Nombulelo secondary school Nicci Hayes pointed out that this school was one of the top school in the commerce subjects, producing a considerable number of students who are ready to study towards a Bachelor of commerce at university.
When leaners get to grade 10 in South Africa they are faced with the decision of choosing subjects that they will do for the remainder of their high school career. This decision is an important one as it influences whether one will be able to study towards a certain degree or not at university. Prof Sewry made specific reference to studying towards a degree of Bachelor of commerce.
Prof Sewry continued to point out the subjects the student who had interest in commerce could take up. Thereafter he spoke to the leaners about career opportunities in the commercial world. The student were particularly excited to have had the opportunity to be part of this talk. Most of them said that the talk was informative and that it would help them prepare better for their university studies.
Source:Community Engagement Directorate