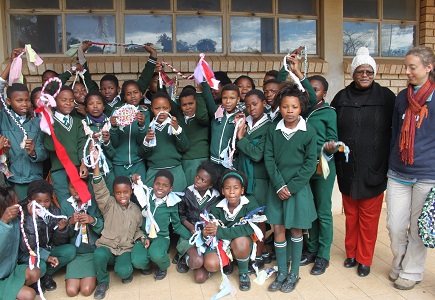 Rhodes > Community Engagement > Latest News
Oasis Rainbow Kids at Fikizolo Primary School
Date Released:
Wed, 27 July 2016 13:50 +0200
By: Sbusiso Mukhari
Oasis is an organisation that is based in Grahamstown. The director of the centre Niels and his wife Charis visited the Fikizolo Primary school to teach them how to use reusable materials to make a mat. This initiative was a contribution by the Oasis Centre for Trading Live, an initiative that seeks to achieve the fundamental objective of Mandela Day, through various opportunities given to staff and students at Rhodes University to help in ways they can in order to help facilitate change in the greater Grahamstown community.
The director of Oasis pointed out that the objective of the centre is to bring together many people from very different backgrounds and different age groups to make them agents of change. To equip each one of them in order for them to make their contribution and influencing change in their community.
They achieve this objective through projects that encourage and equip young people in order for them to create business opportunities. Through these businesses they are able to create employment opportunities.
Source:Community Engagement Directorate