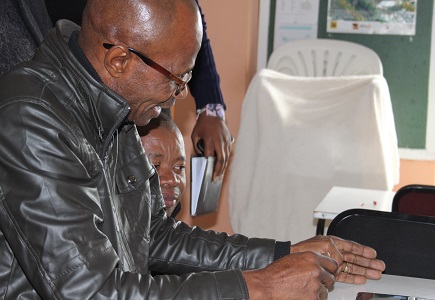 Rhodes > Community Engagement > Latest News
Photo & Video Editing Skills for Umthathi
Date Released:
Thu, 28 July 2016 13:25 +0200
By: Sbusiso Mukhari
Mr Royi a former teacher at Nathaniel Nyaluza secondary school, made his mark for the Nelson Mandela trading live at Umtathi centre. He did Photography and Videography as hobby when he was still working as a teacher, he then took it upon himself to make the best of this hobby and perfected it through practice.

When he resigned he started doing Photography and Videography full time. Mr Royi believes that we need not to keep our learnt skills to our self. He believes strongly believes that it is important for one to train others, as such he grabbed the opportunity provided by trading Live and trained the staff of the Umtathi centre in skills of video editing. Mr Royi has thus far also trained young people who are willing to learn the skills he has in his area of residence.
Source:Community Engagement Directorate