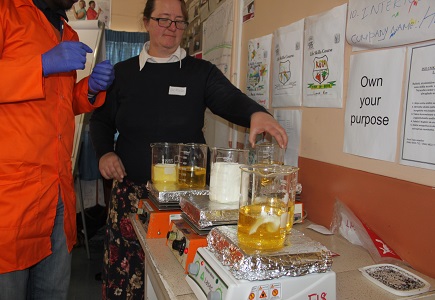 Rhodes > Community Engagement > Latest News
Soap Making Skills for Grahamstown Residents
Date Released:
Mon, 29 August 2016 10:07 +0200
By: Sibusiso Mukhari
Dr Rosa Klein a lecturer at the Rhodes University chemistry department and a number of her students ranging from first year all the way to honours, went Assumption Development Centre for the Mandela trading live initiative. Prof Klein and her students went to the centre to equip the men and women there with the skill of making handmade soap. Prof Klein pointed out that handmade soap could open a business opportunity for the women and men who attended this event. She started the initiative of teaching the skill of making handmade soap seeing that handmade soap is expensive though desirable amongst many.
"My first years already know how to make their own soap" Prof Klein said these words to show those who were in attendance how easy it would be for them to make their own soap. The ingredients that are used in making the soap are ingredients readily available in one's kitchen. At the end of the day everyone in attendance successfully made their own soap. To motivate everyone to start their own business of handmade soap, packaging skills were also demonstrated.
Source:Community Engagement Directorate