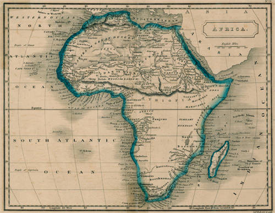 Rhodes > Cory Library > Latest News
Maps of Africa to 1900
Date Released:
Tue, 19 January 2010 15:40 +0200
The Maps of Africa to 1900 digital collection contains images of maps listed in the bibliography Maps of Africa to 1900: A Checklist of Maps in Atlases and Geographical Journals in the Collections of the University of Illinois, Urbana-Champaign (Bassett & Scheven, Urbana: Graduate School of Library and Information Science, 2000). As such, this collection mines not only the Library's map collections, but also its extensive collection of 19th century atlases and geographical journals, including the Journal of the Royal Geographical Society (United Kingdom), the Bulletin de la Société de Géographie de Paris (France), and Petermanns Geographische Mittheilungen (Germany).
Pic: Map of Africa bySidney Hall, 1822, Maps of Africa to 1900.
Source: