Events
Theatre in Motion '13
Exciting | Innovative | New
Wednesday 23rd to Saturday 26th October
Box Theatre | Main Theatre
Rhodes University Drama Department presents the annual programme for Theatre in Motion.
Two Programmes, Eleven Productions and they are ALL FREE!!!!!
Theatre in Motion is an annual festival showcasing examination pieces from young and talented performers in the Rhodes Drama Department. Physical Performance, Contemporary Performance, Choreography and the new Visual Theatre all create superior theatre pieces from their extensive study over the year. The work is original and inspiring, intelligent, disturbing and delightful.
Honours Choreography
Honours choreographers are set tasks to create a piece of dance theatre based on their year's work. The course is creative and comprehensive; it draws from a range of physical theatre and dance styles. Choreographers are pushed to explore their world, to find inspiration and movement in everything they see.
Visual Theatre III
Since April this year, third year students have been exploring an approach to theatre still in its infancy in SA theatre – mask work. From early explorations in neutral mask, through an investigation of the movement quality and potential of elements, colours, and tensions, the work has progressed to animating full character masks, where the performer has to find the truthful inner monologue, rhythms, tensions, and mannerisms to bring a mask to life.
Honours Physical Performance
Honours physical performance is aimed at encouraging independent and innovative thinking with regards to the performer as theatre maker.
The Honours class have put together an exciting theatre experience, melding acting, dance and play in a feast of theatre.
Masters Choreography, Contemporary Performance and Directing
This year's Theatre in Motion also includes works by our talented Masters students. Thalia Laric presents her final Masters Examination practical "An Intimate Performance" which regretfully has a very limited audience. Not to fret, three Masters Students including Pumelela Nqelenga, Liezl De Kock (Contemporary performance) and Hannah Lax (Directing) present their previews to what will eventually be their final examinable works in 2014.
The programmes run as follows:
Programme A
Wednesday 23rd and Friday 25th
THE DANCER-VENTIONISTS GUIDE by HEATHER VAN NIEKERK | 16:00
Honours Choreography
AN INTIMATE PERFORMANCE by THALIA LARIC | 17:30 | By Invitation Only
Masters Choreography
WHAT THE WATER GAVE ME by LEXI MEIER | 19:15 | MAIN THEATRE
Honours Choreography
OPTELGOED by LIEZL DE KOCK | 19:30 | MAIN THEATRE
Masters Contemporary Performance
THE RETURN by ALEX HIGGINS | 20:00 | AMPHITHEATRE
Honours Choreography
ADLIB LOVE by ESTER VAN DER WALT | 20:30 | MAIN THEATRE
Honours Choreography
INNUENDO by MAIPELO GABANG | 21:00 | BOX THEATRE
Honours Choreography
Programme B
Thursday 24th and Saturday 26th
ON THE FACE OF IT by ROB MURRAY | 18:30 | BOX THEATRE
Visual Theatre III
EXPLODING ROOM by JEANETTE GINSLOV | 19:15 | MAIN THEATRE
Honours Physical Performance
SOLO by HANNAH LAX | 20:00 | BOX THEATRE
Masters Directing
INTO ESEMAGQABINI by PUMELELA PUSH NQELENGA | 20:30
Masters Contemporary Performance
Tickets FREE
Limited seating for all shows
Duration |Various
Age Recommendation | PG
Further Information | www.ru.ac.za/drama/productions/upcomingevents
YOUNG DIRECTORS SEASON '13
RED
WRITTEN BY JOHN LOGAN
DIRECTED BY JADE MANICOM
BOX THEATRE
WEDNESDAY 21 AUGUST | 20:00
FRIDAY 23 AUGUST | 19:00
R20 PUBLIC | R15 STUDENTS
THE CURIOUS INCEDENT
INSPIRED BY MARK HADDON'S BOOK OF THE SAME NAME
INSPIRED BY SIMON STEPHENS
ADAPTED & DIRECTED BY SIMONA MAZZA
BOX THEATRE
THURSDAY 22 AUGUST | 19:00
SATURDAY 24 AUGUST | 20:00
RABBIT HOLE
WRITTEN BY DAVID LINDSAY-ABAIRE
DIRECTED BY MAUDE SANDHAM
MAIN THEATRE RECESS
THURSDAY 22 AUGUST | 20:00
SATURDAY 24 AUGUST | 19:00
R20 PUBLIC | R15 STUDENTS
DEBRIS
WRITTEN BY DENNIS KELLY
DIRECTED BY DANIEL WHITEHORN
MAIN THEATRE RECESS
WEDNESDAY 21 AUGUST | 19:00
FRIDAY 23 AUGUST | 20:00
R20 PUBLIC | R15 STUDENTS
TICKETS AVAILABLE AT THE THEATRE CAFÉ \ RHODES DRAMA DEPARTMENT
CONTACT ROBERT HAXTON r.haxton@ru.ac.za | 046 603 8542 (mornings only)

Hanamichi
Presented by Rhodes University Master's student, Tristan Jacobs (Hats, Stilted), Hanamichi is a thrilling theatrical hybrid, a dialogue between Western and Eastern theatre forms.
In content Hanamichi embodies Ted Hughes' poem The Thought Fox. By blending contemporary performance practices such as clowning, puppetry, mask-work and physical theatre with Tadashi Suzuki's actor training method the piece explores our interaction with inspiration.
Conceptually, Hanamichi explores the isolation, boredom and imagination that fluctuate in that writerly space, the nothingness in a blank page and also the infinity it represents. The result is a rather explosive tension built out of visual delights and alarmingly effective humour.
The theatre will be transformed into a Butai, reinventing the traditional Noh stage. With original set pieces designed by, multiple Standard Bank Ovation Award winner Gavin Krastin (Discharge, Rough Musick), Hanamichi displays artwork that moves through traditional Japanese print to comic-book manga via Visual Poetry.
It is foremost a collaborative event, one that is magically inquisitive; it is an imaginative storytelling performed on the Axis Mundi – that liminal space where reality shifts and warbles with each breath allowing audiences a completely fresh experience theatre's endless boundries.
National Arts Festival
PJ's
02 July @ 10:30
03 July @ 14:30
04 July @ 20:00
Rhodes Box theatre
24 July @ 19:00
26 July @ 19:00
MOOR
Rhodes University presents Moor, directed by Masters Student Jess Harrison, adapted from William Shakespeare's The Tragedy of Othello: The Moor of Venice and inspired by international playwright and dramaturge Charles Marowitz.
Based on the black consciousness writings of Frantz Fanon, Eldridge Cleaver, Malcolm X, Steve Biko and W.E.B Du Bois and compiled by the director and cast. Moor presents an invigorating re-visit of the classical text through subversion of language and character. Unexpected and shocking motives fuel the insidious mental poison that Iago administers to catalyse Othello's demise through his brutal murder of Desdemona. Provocative and complex questions of race and gender underpin the rich and sordid narrative textured by the fusion of contemporary English, isiXhosa and Shakespearean text. This visceral theatrical experience is played out through opulent visual aesthetic and heighted performance style weaving a rich tapestry of intrigue, humour and horror culminating in the final words of Iago: "And herein lies the tragedy of the age: Not that men are poor, - all men know something of poverty. Not that men are wicked, - who is good? Not that men are ignorant, - what is truth? Nay, but that man knows so little of men" (W.E.B. Du Bois).
National Arts Festival
Rehearsal Room at the 1820 Settlers Monument
28th June @ 21:00
1st July @ 17:30 in the
Rhodes University Drama Department
Main Theatre
25th July @19:00
27th July @ 19:00.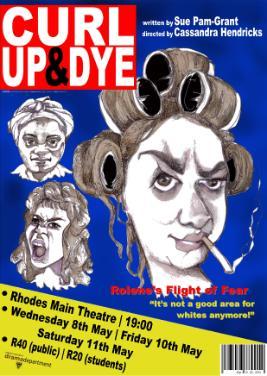 The Rhodes Drama Department proudly presents a fresh version of Sue Pam-Grant's famously comic South African play Curl Up & Dye to be directed by Rhodes Alumni Cassandra Hendricks.
Curl Up & Dye is set in Hillbrow, Johannesburg in 1989. It was a volatile, dangerous and exciting time for South Africans and the world. 1989 would mark the last year of captivity of future president Nelson Mandela.
The end of Apartheid was palpable but many feared that it would not end peacefully.
Curl Up & Dye captures hysterical white fear of Rolene, the main hairdresser in the salon and Mrs Dubois, a long suffering patron of the hair salon. Miriam, the black cleaner who ultimately runs the salon, gets paid a pittance and is subjected to humiliating advertising campaigns. Charmaine, a prostitute and Rolene's neighbour uses the salon as a safe house to momentarily escape from her violent, drug-fuelled existence on the streets of Hillbrow. Dudu, a well-to-do nurse comes into the salon hoping to get her hair treated only to be confronted by a slew of social political issues.
Curl Up & Dye performs at The Rhodes Main Theatre at 7pm on the nights Wednesday 8th, Friday 10th and Saturday 11th May. Tickets are R40 for Public and R20 for Students. Block bookings can be organised with Theatre Administrator Robert Haxton who can be emailed on r.haxton@ru.ac.za.
Age recommendation | PG
Date | Wednesday 08 | Friday 10 | Saturday 11 May
Time | 19:00
Duration | one hour, twenty minutes
Tickets | Theatre Cafe | 09:00 – 16:00 weekdays
Tickets | Drama Department Room 107 | 09:00 – 13:00 weekdays
Ticket price | R40 (Public) | R20 (Students)
Block Bookings | Schools looking for block bookings at discount call 046 603 8542
Contact | Robert 046 603 8542 (mornings only) | r.haxton@ru.ac.za
Facebook | Curl up & Dye @ Rhodes University
____________________________________________________________________________
DRIFTING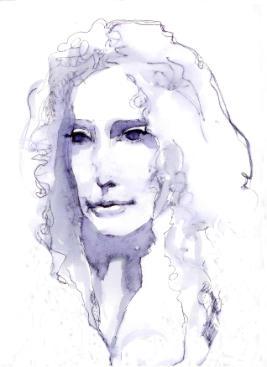 Rhodes University Drama Department is proud to present "Drifting", a tribute show to the acclaimed South African playwright, Reza de Wet, to be performed at the Rhodes Theatre during Rhodes Graduation on the 4th, 6th,and 9th April 2013 at 7:00pm.
"Reza has such an incredible legacy, both within the department, nationally, and internationally," says department HOD Andrew Buckland, "that we wanted to find a vehicle to celebrate her, and mark her passing, appropriately. But how does one do that? We considered various options – doing an entire work, recreating various scenes…but that led us down the track of either trying to find the definitive Reza show, or ending up with a variety concert. Instead, we have decided to do what Rhodes Drama does best – a visual and physical response to her oeuvre, and the creation of an original response, or reaction to her as a provocation."
The result is a mixed-media, multicultural, and many-faceted response to her work. An eclectic mix of senior postgraduate students and professional performers has birthed "Drifting" under the curatorship of Rob Murray, Andrew Buckland, and new design head Illka Louw.
"There is a new movement within the department," says Buckland, "with new lecturers and a fresh energy towards making work. All of this plugs into the show that will showcase our strengths and emphasise our belief in collaboration and a shared creativity."
The resultant work is a number of image-driven scenes inspired by various de Wet texts such as "Drif", "Diepe Grond", "Mirakel", and texts for the First Physical Theatre Company such as "Dialogue" and "Unspeakable Story".
"We're pushing the theatricality of the scenes," says Illka Louw, "in order to capture the essence of Reza in image, sound, mood, and atmosphere. In this, we have taken certain theatrical and poetic licences in the weaving together of disparate elements and various manifestations of Reza and women in general and the creation of a magical realism that we believe she would approve of."
"There will be certain areas that will irritate the purists," adds in Murray, "in that we have filtered Reza's texts through the physical imagination of the core cast made up of department staff and senior postgraduates. But what they've all come up with will hopefully lead to a curiosity and intrigue to revisit her texts, or act as an introduction to Reza, and do justice to the complex and amazing artist and woman that she was."
Featuring choreographic input by Athina Vahla and Juanita Finestone-Praeg, dramaturgy by Rob Murray and Andrew Buckland, and performances by Andrew Buckland, Juanita Finestone, Lindsay Reardon, Liezl de Kock, Ilana Cillers, Pumelela Nqgelenga, Hannah Lax, Tristan Jacobs, Sifiso Sikhakhane, Levern Botha, Leonard Praeg, and animation by Bianca Binneman, "Drifting" is a not to be missed show for all arts enthusiasts, total theatre lovers, and anyone with a pulse.
All monies made off ticket sales for "Drifting" will go straight to furthering The Reza De Wet Post Graduate Bursary for Drama Students.
"Drifting" performs on the 4th and 6th April at 19h00 and a Student Special Performance again on 9th April at 19h00. The show is PG rated for language and disturbing scenes.
Tickets can be booked at either the Theatre Cafe or in Room 107 in the Drama Department.
Age recommendation | PG
Date | Thursday 04 | Saturday 06 April | Tuesday 09 April
Time | 19:00
Duration | one hour
Tickets | Theatre Cafe | 09:00 – 16:00 weekdays
Tickets | Drama Department Room 107 | 09:00 – 13:00 weekdays
Pre-booked ticket price | R100 (Public) | R80 (Graduates) | R60 (Block Booking)
Box Office ticket price | R120 (Public) | R100 (Graduates)
Student Special | R50 (Public) | R30 (Students)
Contact | Robert 046 603 8542 (mornings only) | r.haxton@ru.ac.za
____________________________________________________________________________

HOD Andrew Buckland presents two exlusive performances to aid Drama Bursaries
Rhodes University Professor and Award Winning Theatre Legend Andrew Buckland will be presenting two exclusive performances of Dario Fo's highly acclaimend work Mistero Buffo to Grahamstown audiences on Friday and Saturday (25 February). All proceeds from these two shows will go directly to supporting and aiding bursaries for drama students.
Prof Buckland presents this onslaught from a specifically South African perspective and, in so doing, accesses the universal truths of this phenomenal work of theatre. The work is sophisticated yet simple, wildly physical and extremely funny.
In Mistero Buffo, first staged in 1969, this one-man epic performance combines the grotesque comedy of the Italian medieval performance traditions with razor-sharp contemporary political satire.
The play, which caused great controversy in 1977 when televised, by distilling the popular and irreverent elements of medieval mystery plays, functions as a political and cultural onslaught against the repressions of religious institutions and landowning classes throughout history, expressing them in the language of the peasantry.
Ticket prices for Mistero Buffo are R25 (Public) and R20 (Students). Tickets available at the Theatre Café, Rhodes Drama Department. 24 February @ 8pm (Rhodes Main Theatre) and 25 February @ 7pm (Rhodes Main Theatre)
Source: Grocott's Mail
Beyond Fighting
Come join the Rhodes Drama Department in the Box Theatre, Wednesday 22 @ 7pm for a free Lecture Demonstration on two Japanese martial art forms (Karate & Aikido). The Interdisciplinary Lecture Demonstration is a monthly event bring together various components of body awareness in an array of fields.
Pantsula Van Tuka Af
A new show about the birth of Pantsula
Directed by Ayanda Nondlwana
Choreographed by Thozamile Ngqcongo (Rocky)
Saturday 12th November | 7pm
Box Theatre
Ayanda Nondlwana presents his take on the History of Pantsula, from its roots in 1950s Sophiatown to its present day entertainment value.
Pantsula Van Tuka Af is an episodic play, following a number of vivid characters through their journey of discovering Pantsula. The show is full of lively and engaging dance routines. It provides a sense of the history and development of Pantsula, from its origins in the Gangsterish clubs of Sophiatown where it was a dance for tough guys, to its present form as a highly skilled and specifically South African dance form.
This show not only provides an insight into South African culture and history, but also offers a show of highly skilled dance from passionate and dedicated performers.
Tickets
R20 and R15 for students
Available at the door and from Ayanda Nondlwana
Bookings | k.bold at ru.ac.za
Duration |1 - 1.5 hours
The Rhodes Drama Department presents two productions by major leading artists at this year's Graduation ceremony. With the aim of raising funds to allow future post-graduate students the benefit of studying Drama, this special two night event will mark the official launch of the Reza de Wet Post-Graduate Bursary for Drama Students.

The acclaimed Ubom! Eastern Cape Drama Company will be presenting The Dogs Must Be Crazy, a new work under the skilful direction of Rob Murray. Theatre legend, Andrew Buckland will also be presenting his classic one-man comedy The Ugly Noo-Noo, which marks as a major treat for all returning students and their families.
...read more