About
History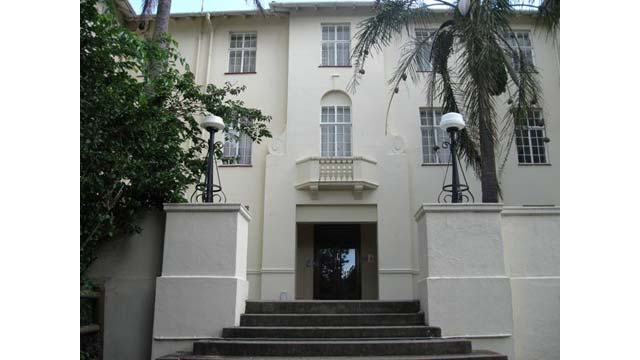 Graham House was built in 1940 and officially opened to the first batch of students in 1941-April 24th. It was to be the first resident of the newly built, Drostdy Hall (the first hall to cater for inter-res social meetings between male and female students). The house accommodated 54 male students.
The House was named Graham, in honour of the memory of Mr Francis Graham, a former Magistrate of Albany (District in which Grahamstown falls under) and second chairman of the College (University, as it was refered to then) council.
Information obtained from:
Scrapbook, 11 January 1939 to 4 November 1943.
R.F Currey, Rhodes University 1904-1970, Rustica Press; Wynberg.page 59.
Our Home
Graham House accommodates 54 male students, and is disability friendly.
Graham House is close to the heart of campus, and is also very close to the town, and is situated on the lower end of Prince Alfred Street next to the Rhodes Theatre.
Graham House is overseen by a Warden who resides in the residence, and two Sub-Wardens, who are Rhodes students and live in the residence. They are available to attend to any concerns of residents on a regular basis. A House Committee is also elected for each year.
All rooms in Graham House are single rooms.
Meals are provided in the Drostdy Dining Hall, right behind Graham House.
Facilities
There are 2 bathrooms, each consisting: 6 showers, 1 bath, 2 urinals, 3 toilets, 3 basins.
Each room has: a basin with cold water tap, wardrobe, bookcase, desk & chair, lamp, bed & mattress, bedside table, noticeboard, wall heater, waste paper bin, towel rail, mirror, & curtains.
Linen is provided by Housekeeping: a sheet, a duvet and duvet cover, a blanket, two pillows and two pillowcases & mattress cover. There is a linen change once a week, on a Monday from 13h00 to 14h00. Students can bring their own linen but they are then responsible for the laundering.
A common room with couches, pool table, and a communal DStv facility (with some channels).
A kitchenette with a microwave & kettle. (There is also a fridge on the middle and top floor)
A laundry room facility: 2 washing machines & 2 tumble driers, and an enclosed drying area.
Students can connect to ResNet/WiFi (internet access) in their room, and get support from a fellow res student, the Networking House Rep, in this regard. Printing facilities are also available in the Residence (one communal printer in common room) and it is charged on each student's printing balance found online on the Rhodes University Student Support System (ROSS). There are also two communal computers in the common room.