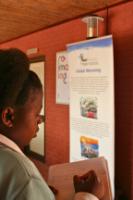 Rhodes > ELRC > Latest News
Youth prepare for COP17
Date Released:
Mon, 7 November 2011 00:00 +0200
As COP17 draws nearer, so should our collective awareness of its aims. Perhaps more important, however, is mindfulness of the role we play in mitigating environmental issues. Last week the ELRC partnered with the South African Environmental Observation Network (SAEON) to host a youth awareness activity to stimulate thinking about the international conference on a local level. "In most cases you find that people come from all over the world for some reason, but you don't know why," said the event's organiser, Environmental Education PhD student, Charles Chikonda who highlighted the event as an important learning opportunity.
Grade 9 students from four environmentally active Grahamstown schools and one youth group attended the event. SAEON, the South African Institute for Aquatic Biodiversity (SAIAB) and recycling initiative, Masahlule constructed displays and exhibits around themes of climate change and sustainable environmental practices. A homemade compost, an electrical bicycle and rain water filtering systems were just some of the sustainable ideas and inventions youths were able to view up close. A gigantic sculpture of a skull made from plastics was also on display. Named 'Hydrocephalus', meaning water on the brain, the piece sought to engage with social and environmental concerns surrounding consumption and wastage of one of the earth's most precious resources.
"The kids were more interested in these issues by interacting with them in this way," commented Chikonda, describing the pupil's obvious enthusiasm and diligent note taking. "It was also good for them to have an excursion out of school -- the opportunity to go to a university is also really good for them."
Source:ELRC - Environmental Learning Research Centre