Rhodes > English > News
Dr Aretha Phiri Awarded Iso Lomso Fellowship
‌
Dr Aretha Phiri
DR Aretha Phiri is one of five candidates out of over 250 applicants who has been awarded the prestigious inaugural Iso Lomso fellowship at the Stellenbosch Institute for Advanced Study (STIAS).
Iso Lomso, meaning "the Eye of Tomorrow" in isiXhosa, is a new STIAS fellowship and early career support programme that will boost the careers of some of the brightest minds in African academia. The programme was inspired by the Pro Futura Scientia programme, developed by the Swedish Collegium for Advanced Study and is currently funded through a STIAS grant from the Swedish Riksbankens Jubileumsfond.
In addition to spending up to three periods of residency at the STIAS Wallenberg Research Centre in Stellenbosch between 2017 and 2019 to pursue their research projects, Iso Lomso fellows may also receive funding to attend international conferences, convene workshops, and visit sister institutes for advanced study in North America, Europe or elsewhere.
Provisionally entitled, "Interrogating Blackness, Locating 'Africanness'," Aretha's project considers the literary works of transnational African authors Zoë Wicomb, NoViolet Bulawayo, Chimamanda Ngozi Adichie and Taiye Selasi in response to African-American author Toni Morrison's concerns around blackness.
Last Modified: Mon, 15 Jan 2018 01:16:49 SAST


Recipient of the Oxford University Press Prize for the Top Honours Student in 2014.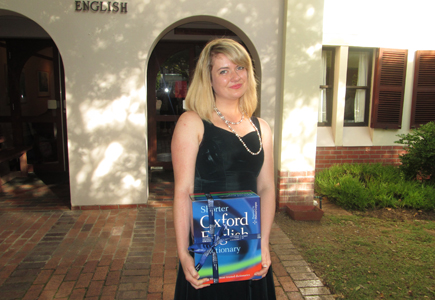 Date Released : 18/05/2013
Caitlin is the recipient of the Oxford University Press Prize for the Top Honours Student in 2014.
RU English Department welcomes Dr Primorac
Date Released : 24/08/2016
DR Ranka Primorac joins the English Department as Senior Research Associate, from July 2016. Dr Primorac is a Lecturer in English at the University of Southampton.
Mandela Rhodes Scholarship Recipient - Lumumba Mthembu
Dr Deborah Seddon awarded British Academy Newton Advanced Fellowship
Date Released : 13/05/2015
Dr Deborah Seddon awarded British Academy Newton Advanced Fellowship to develop a Digital Archive of South African Orature