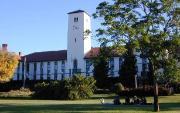 Rhodes University student Qhawe Mhlongo, 22, spends as much time helping people as he does on his studies.
"It would be beneficial if more of our young people could be roped into doing community work - it is a great idea to let graduates do more solid work for society," he said.
The honours student has only about three years left to qualify as a chartered accountant.
He was reacting to a proposal by the ANC's national executive committee's sub-committee on education and health that would result in university graduates spending a year doing community service work.
Should he keep to his goal of becoming a chartered accountant, Mhlongo would have to spend at least 3600 hours with clients at an accounting firm he would be working for.
There are an additional two board exams that he has to write during the next three years, and has to achieve about 100 competencies set by the SA Institute of Chartered Accountants.
But Mhlongo said he did not mind and suggested: "The ethics course we are required to undertake during our studies should be incorporated with the community initiative as well, putting our role into perspective while we are still working towards our goal."
By Poppy Louw
Source: The Times
He was reacting to a proposal by the ANC's national executive committee's sub-committee on education and health that would result in university graduates spending a year doing community service work. File photo