Rhodos September 2016
ENSURING ACCESS AND SUCCESS: THE EXTENDED STUDIES UNIT
Being accepted into Rhodes University is just the beginning of a challenging academic and social journey, and for those from disadvantaged backgrounds the journey can be particularly gruelling. But Rhodes University's Extended Studies Unit (ESU) and its Trojan Academic Initiative (TAI) Student Peer Mentoring Programme are committed to ensuring that students not only arrive, but thrive.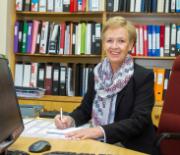 Rhodos September 2016
LEADING THE FUTURE
In June this year, Professor Di Wilmot was re-elected unopposed to serve a third term as Dean of the Education Faculty at Rhodes University. Her motivation for continuing in this role was based largely on the fact that she facilitated a strategic planning process and the initiation of a number of new programmes, which she would like to see through to completion.