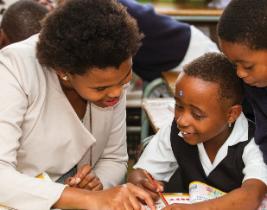 Rhodos
A Strong Foundation
Starting with early learning, the Education Faculty with the support of all educational and community partners, is leading interventions to fix school education woes
Rhodos
Partners In Education
The additional educational interventions initiated by Rhodes University, both short- and long-term, are providing much needed and relevant support to the educational mix.
Rhodes Exchange
Transforming the Research Cohort - New SARCHI Chairs Redress Gender Equity
The recent award of three new SARChI Chairs at Rhodes takes women chair holders to 50% of all SARChI Chairs at the University. This is well above the national average which sees the percentage of women chair holders at 40%. Championed by Minister Naledi Pandor, the latest call for SARChI Chairs was reserved for women in a push to recognise and elevate both established and emerging women researchers in South Africa.