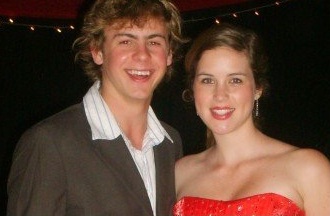 Rhodes > Faculty of Education > Latest News > 2011
Rhodents hit the road
Date Released:
Tue, 22 March 2011 12:18 +0200
Rhodes Alumni Andrew Wassung and Nicola Rushmere will be travelling to Kenya and back through 11 Southern and East African countries, on a drive that aims to generate awareness about Open Africa, an NGO under the patronage of Nelson Mandela, next month.
This promotional drive aims to stimulate the self-drive travel market so that, ultimately, jobs in rural areas will be sustained and the custodians of Africa's natural and cultural treasures will be compensated and rewarded for sharing their riches with travellers.
Wassung and Rushmere will be getting on the road and visiting a third of the Open Africa routes first-hand, showcasing what self-drive travel is all about. They hope to meet fellow travellers and lovers of Africa on the way, and using face-to-face word of mouth marketing to further promote self-drive routes.
On top of all this they will meet with representatives in all six countries in which Open Africa operates. All this time they will be documenting the drive through photographs, videos, writing, facebook, blogging, and POD casting daily on various websites.
The trip takes them through South Africa, Lesotho, Swaziland, Mozambique, Malawi, Tanzania, Kenya, Zambia, Zimbabwe, Botswana, and Namibia, and will include highlights such as The Drakensburg, Serengeti/Maasai Mara, Lake Malawi, Kilimanjaro, Lake Naivasha, Okavango Delta, Namib Desert, and lots of National and regional parks in between.
They will be contributing to some of South Africa's top magazines and their blogs, as well as digimags, and will be doing podcasting on a number of topics and issues. For example interviewing top names and well-known people in conservation.
Open Africa is a social enterprise that was started in 1995, with a vision to sustain livelihoods across rural Africa by offering authentic life enriching journeys to all involved: communities, travellers, partners and the Earth.

Open Africa works with communities to establish off-the-beaten-track, self-drive travel routes in a network supported by local enterprises, linking and protecting the splendours and knowledge of rural Africa. The routes they will be travelling are available on www.openafrica.org
Rushmere completed her BA in History and English and graduated last year, 2010, while Wassung will graduate this April 2011, with a B Journ.
Source: