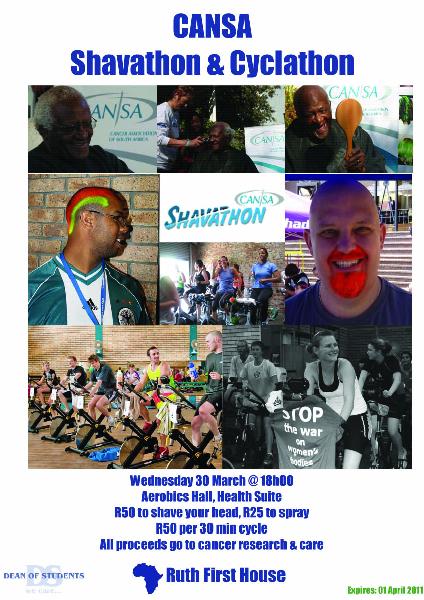 Rhodes > Faculty of Education > Latest News > 2011
Rhodes CANSA Cyclathon/Shavathon
Date Released:
Mon, 28 March 2011 15:26 +0200
Tomorrow (Wednesday 30 March) Ruth First House, in conjunction with the Rhodes Health Suite, will be hosting a three-hour cyclathon running concurrently with a CANSA shavathon.
The event aims to be a fun-filled evening of pedalling action that will inspire people to choose a healthier, more active lifestyle, and will also promote cancer awareness.
This event is about camaraderie and achievement through effort and it hopes to provide people with an opportunity to give more than just money. It raises awareness about CANSA and the work they do and it allows participants to demonstrate their active commitment to the fight against cancer.
When asked why she was organising the Shavathon Charlene Donald, Ruth First House Sports Representative explained, "We all know someone who has battled cancer and many of us have lost friends and family members. This is our chance to honour them and make a small contribution to the race to cure cancer."
The year 2011 marks the Cancer Association's 80th birthday and the 8th National Shavathon event. CANSA's purpose is to lead the fight against cancer in South Africa and it is striving to be the preferred non-profit leader that enables research, educates the public and provides support to all people affected by cancer.
For more information about CANSA visit http://www.cansa.org.za
Source: