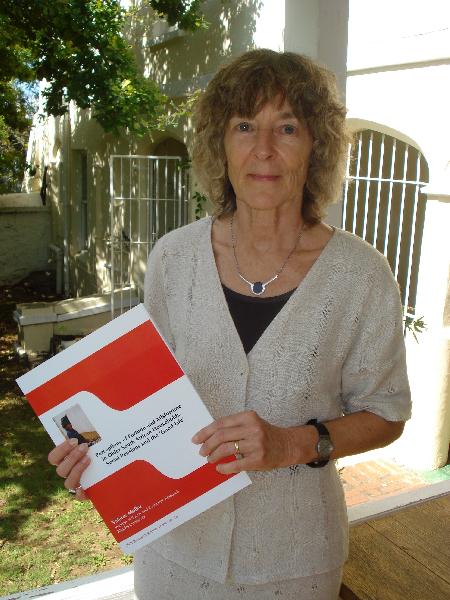 Rhodes > Faculty of Education > Latest News > 2011
The role of social assistance in South Africa
Date Released:
Fri, 1 April 2011 09:05 +0200
Julia Mase, PhD researcher at the Brooks World Poverty Institute, University of Manchester, and Valerie Moller, Professor of Quality of Life Studies at the Institute of Social and Economic Research (ISER) at Rhodes presented findings from The Ageing, Well-being and Development Project at the Faculty of Humanities seminar room this week.
Their talk, entitled "Tracking well-being and development in older households: A comparative study of Brazil and South Africa" outlined research findings gathered from examining the economic and social dynamics of older people and their households in Brazil and South Africa between 2002 and 2009, and the effects of social policies such as pensions and grants.
Only a handful of developing countries have sought to address old age poverty and vulnerability through large-scale social assistance to older people and their households, and South Africa and Brazil are among them. However, as Prof Moller explained, "Brazil and South Africa have extensive welfare provisions for older people, but we wanted to find out whether this social assistance actually improves the well-being of older people and their households. Do the welfare programmes offer useful policy lessons for other countries?"
To address these questions, the international research team conducted a survey of over 1, 000 containing older people in each country for 2002 and again in 2009. The South African study compares two snapshots produced by survey data collected in 2002 and 2009 among households in the Eastern and Western Cape provinces. Older households were defined as ones with that included a person older than 55 years of age.
The study traced three groups of older households, including black households resident in the former rural "homelands" of the Eastern Cape and two groups of urban black and coloured households in Cape Town. Just under four fifths of the older households that participated in the first wave of the survey conducted in 2002 could be traced to 2009. "We were mainly concerned with looking especially at how changes in pensions affected people in different households, because pensions affect everyone in a home," Prof Moller explained.
In each household at least two individuals provided information on their household's situation and the household's or their own well-being. A household questionnaire was conducted with the person most knowledgeable about the household's finance and a supplementary questionnaire was administered to all co-residents aged 55 years or older. "This gave us quite a comprehensive view of the households and those involved," Prof Moller said.
Prof Moller said the key question guiding the analysis of findings from the 2009 study concerned the role of social assistance in enhancing general quality of life. "We wanted to figure out whether the grants were actually helping or whether they were contributing to creating dependency. There has been a lot of speculation about the role of social assistance and we wanted to understand it better in the South African context," she said.
Analysis of the two cross-sectional surveys shows a general improvement in material living standards in older households between 2002 and 2009. "Higher living standards also correspond to greater well-being," said Prof Moller. Also, the study found that rural black households had the lowest standard of living of the three groups during the specific time period. Urban black households consisted of a large number of immigrants who were hoping for jobs in cities, with 18 percent still living in shacks and 58 percent in RDP houses. 
The coloured households registered the best standard of living in cities. However, the majority of all groups recorded that they were better off in 2009 than in 2002, and Prof Moller said this was due to a combination of reasons. "For the rural black households, social grants have had good effects, while for urban black households multiple sources of income are helping to improve standards of living," she said. Prof Moller also said the coloured households were benefiting from many children earning their own salaries, thereby contributing to the household finances.
The study also required older participants to identify what they consider to be components of "the good life", and the majority of responses pointed to having children and grandchildren, and basic needs such as having a roof over one's head and financial security.
Prof Moller said the debate around the issue of social grants is interesting in the South African context, and that research shows that while many are sceptical that the allocated money is not being spent on the correct products, without the grants there is little opportunity for improvement. "Quite simply without the social grant we are not going to make it in South Africa," she said.
Prof Moller also said that with the allocation of grants, should come some kind of follow-up assistance for the individuals who benefit. "One needs to create a sense of financial awareness and management. Perhaps workshops could be organised to help individuals learn how to better handle their finances," she said.
Copies of "Perceptions of Fortune and Misfortune in Older South African Households: Social Pensions and the 'Good life'" are available from ISER.
By Sarah-Jane Bradfield
Photo: Prof Valerie Moller of the Institute of Social and Economic Research (ISER) with a copy of "Perceptions of Fortune and Misfortune in Older South African Households: Social Pensions and the 'Good life'", which are available from ISER.
Source: