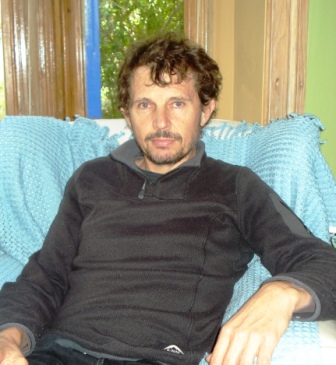 Rhodes > Faculty of Education > Latest News > 2011
Fuelling the flame of hope
Date Released:
Wed, 6 April 2011 15:58 +0200
Professor of Philosophy at Rhodes, Pedro Alexis Tabensky, addressed members of the wider Grahamstown community last week on issues of hope and hopelessness, as part of a political education seminar.
The talk, entitled "Hope, Discontent, Rebellion" is based on a book project which Prof Tabensky is currently working on during a two-year sabbatical funded by Rhodes and the Oppenheimer Trust.
The book, tentatively entitled Shadows of Goodness: a Secular Theodicy, aims to show to what extent evil plays a necessary role in our lives in the sense that without many evils, small and large, much of what we value in life could not exist. As Prof Tabensky explained, "The concerns of the book are entirely secular, but I find inspiration from key features of theodicies, which aim to reconcile God with the imperfections of creation by showing that some evils are necessary for key things that we value.
"There is much disvalue (or evil) in the world which we need in order to live rich and valuable lives. And in the book I will explore psychological, ethical and political dimensions of this mode of thinking about the conditions for that which we value."
Two chapters of the book explore the idea of hope, which Prof Tabensky claims is central to human living. "We are creatures who hope and, although hope is necessary for living good lives, hoping is also a deeply dangerous affair. If we lose all hope, the options open to us are suicide, madness or beastlike existence," he said.
Prof Tabensky, who was born in Chile, studied Philosophy in Australia and worked in Pretoria before taking up a position as lecturer at the Department of Philosophy at Rhodes in 2006, said he has been inspired by the experience of living in South Africa and has, more than in any other place, come face to face with issues of hope and hopelessness, particularly relating to deep social injustice.
In his talk Prof Tabensky argued that hopelessness is a key feature of township life in Grahamstown. "In such conditions it is almost impossible to maintain hope. Having hope in conditions which are hopeless requires a unique kind of strength, which demands a sense that collective action aimed in the first instance at addressing the largely hopeless predicament of the poor is required," he said. 
For Prof Tabensky, the fact that so many people in South Africa live in conditions which are marked by hopelessness is clear evidence of the deep failure of our democracy, and presents a way of addressing the inadequacies of the democratic system in his talk.
Prof Tabensky spoke about the significance of rebellion of the poor as holding the key to a better future "where nobody is forced by injustice to live in conditions where the ability to hope requires almost superhuman strength". For him, mass rebellion fuelled by hope in conditions which are hopeless is what South Africa's democracy needs. He said this is already happening across the country, including in Grahamstown.
"The only way to maintain the flame of hope among the poorest of the poor is to join social movements and fight for a future. To establish conditions for a future in which we can hope, we need collective rebellion. The only way to counteract the negative force of hopelessness is to come together as a 'we'."
Prof Tabensky said he is impressed with the rapidly rising strength of social movements in Grahamstown, and believes that organisations like the Unemployed Peoples' Movement, headed by Mr Ayanda Kota, and of the Women's Social Forum, headed by Ms Nosigqibo Soxujwa, are making real differences in the lives of Grahamstonians. "These movements are challenging the status quo in meaningful ways and are trying to bring about a more participative way of doing politics," he said.
Prof Tabensky argued that the portrayal of social movements as "congregations of poor people asking for handouts and looking sheepishly at the state for salvation" is not only incorrect but also obscures the fundamental aims of these movements, which are expressive of key Black Consciousness principles. "I think a better democratic future will come about if social movements can find the grassroots support they need to put pressure on the state's dehumanizing attitude towards them, and they are finding such support" he said.
As an advocate of Black Consciousness, Prof Tabensky said he doesn't believe one should adopt a specific agenda for the future, but rather let general principles of justice creatively lead the way. "One of the key themes in Black Consciousness thinking is that true freedom can only happen if your mind is free from distortion, and the general loss of hope is one of the key causes of such distortions," he said.
Prof Tabensky is the author of three books, Happiness: Personhood, Community, Purpose (2003); Judging and Understanding: Essays on Free Will, Narrative, Meaning and the Ethical Limits of Condemnation (2006) and The Positive Function of Evil (2009).
By Sarah-Jane Bradfield
Photo: Prof Pedro Alexis Tabensky
Source: