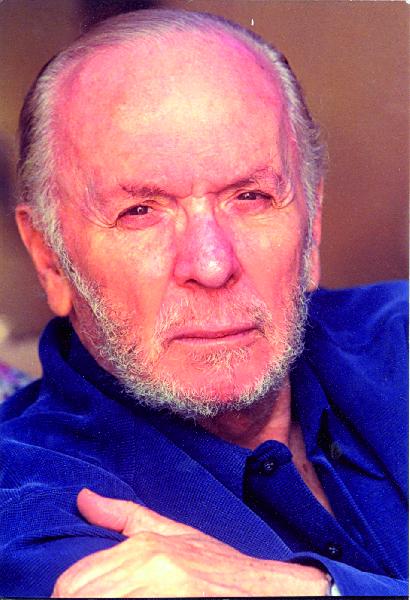 Rhodes > Faculty of Education > Latest News > 2011
Herbert Kretzmer: journalist and lyricist
Date Released:
Sat, 9 April 2011 09:08 +0200
Herbert Kretzmer OBE came back this week to the town in which he was a young man, the town which, he told the audience of academics, graduates and their families, he had never thought to see again. It was most certainly Grahamstown, and Rhodes University's, gain to have him present at the 2011 Graduation ceremonies, receiving an Honorary Doctorate and giving a speech which, with its fluidity and evocative language, made it very clear why Kretzmer is regarded as one of the pre-eminent lyricists of the 20th Century.
How does one know when a love begins? Kretzmer's began at the age of one, when, fastened with a blanket to the back of the African woman who worked for his family, he experienced a moment of profound clarity. In a clear memory that some would consider to be impossible for one so young, he recalls the scent of his carer, the feel of the hot sun, and the gentle half-murmured African song which she was crooning as she washed the family's clothes.
His love was strengthened as a child, still too young for school, when he heard the singing of African prisoners digging up the road outside his house; the deep musical rhythms of their voices echoing the thud of their pickaxes on the hard surface.
At the ceremony on Thursday (7 April), Herbert Kretzmer told students to follow what Joseph Campbell calls their bliss. Recognise your horizons, by all means, he advised, but if you don't love what you do, don't do it. While affirming that he feels the luckiest of men to have had successful careers as both journalist and lyricist, it is the composition of lyrics which has made him happiest. This is his bliss, and certainly, for most of us, music is essential to our emotional wellbeing.
Why is this so? Kretzmer explored this question a little more deeply – why do we sing? It is an impulse older than our species. Pre-human primates used their voices as a means of alert, as a way to soothe babies in their arms, to declare anything carrying a heightened emotional charge. In the beginning was not the word, says Kretzmer. In the beginning was the song. And the impulse to sing, perhaps, expresses our longing for symmetry, balance and order, "in other words, a yearning for what is beautiful."
Kretzmer spent thirty years as a journalist on Fleet Street, before his English lyrics for the musical Les Miserables allowed him to leave his "day job" and focus on his passion for writing songs. He explained to those gathered in the Guy Butler Theatre that, in fact, these professions are not divergent: "They are comparable professions in my view because they involve and entail the manipulation of the English language under constraint, under duress."
And that language, manoeuvred and shaped into lyrical form, makes of us what Kretzmer calls the most portable musical instrument there has ever been. We need no more than our voices to raise our spirits with song. He adds that:
"Music, song, drama are not indulgences a civilised society might deign to support from time to time. They are crucial to that society's self-respect and self-declaration."
We need music, we need dreamtime, as we need hospitals and laboratories, says Kretzmer. The culture of a country is what defines a country. And as a man who has given so much pleasure to so many with his lyrics, we can listen to and heed his words.
Citation click here
By Jean McKeowin
Source: