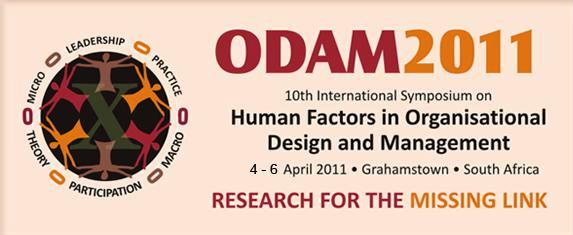 Rhodes > Faculty of Education > Latest News > 2011
Mercedes at ODAM 2011
Date Released:
Sat, 9 April 2011 12:37 +0200
A presentation by Mercedes Benz South Africa at the ODAM 2011 conference at Rhodes this week looked at preventing and managing work-related musculoskeletal disorders (WRMSDs) and the use of Occupational Risk Examination Profiles (OREPs) in the automotive industry.
Pat Scott warned that "Industrially Developing Countries (IDCs) can no longer be ignored or isolated without dire reverberations throughout Industrially Advanced Countries (IACs) and indeed the world." She said that sound ergonomic practices had a vital role to play in helping the world achieve sustainable productivity. Ergonomics has a four-pronged effect: it has the potential to ensure worker safety and well being; increase efficiency; improve productivity; and improve the economy.
"Sustainability must become a plan of action – it is not a buzzword but a long term commitment. Good ergonomics is good economics but this is yet to be realised in many IDCs."
She described the ergonomist's role in IDCs as assisting a low-skilled labour force to achieve more with less strain by taking into consideration local conditions, cultures and labourers, and attaining an understanding regarding appropriate work structures and organisation at a grass-roots level.
The compounding negative factors of poor living conditions and their associated health problems, limited education, low productivity and low income coupled with poor nutrition, low work capacity and physically demanding tasks results in a hopelessly negative spiral.
Scott believes that ergonomists can help reverse that spiral by placing respect for workers' lives at the centre of sustainable grown and development while also helping them to help themselves. This means participatory involvement both at the coalface and within the community that aims to achieve a balanced mix of employers ensuring their workers' rights and of employers and employees sharing responsibilities.
"Ergonomics can't solve the global financial fiasco but it can help in addressing the inequalities," she said.
Imada took delegates through the historical development of ODAM from a 1982 discussion in a Seattle bar to the international organisation that it is today. "ODAM has come a long way in a short time and academics are now talking to industry to help solve problems," he said. "There has come about recognition of the value of the macroergonomic approach and the need to widen the contexts for change beyond organisational, production, and work."
The traditional ergnonomist's contribution was driven by occupational health and safety and perceived as a regulatory role. But there is a meeting point where corporate and business strategies become cross functional and the ergonomist can play a role in downsizing and lean production, quality management, enterprise resource planning systems, organisational redesign, global competitiveness and sustainability.
Hybrid value chains are defined as organisations and social action groups working together to create business opportunities and social change. Quite often, however, there is an understanding of what the problem is but they do not have the scale to fix it. "The IEA, federated societies, networks, technical committees, ODAM and teams of individuals can have a disproportionate effect in HVCs," said Imada. "It is not enough to help children by building orphanages – you must go to the source and understand where this problem comes from."
With its largest ever shipment of Mercedes-Benz cars from South Africa totaling 3280, the company boasts one of the most advanced manufacturing systems in the world. With some 2185 employees at the very high technology plant in East London alone, the company is one of the area's biggest employers and an important contributor to the Eastern Cape economy.
The company is also an example of one of the most progressive automotive plants with respect to ergonomics. "Our employees are our most important people," said Barry Canning. "At 98.9% we have one of the highest attendance rates in the world." This is linked to a stringent organisational health management plan and the establishment of a very well integrated health and wellness centre through which they aim to create a pleasant working environment in order to continue to attract people of the highest caliber.
The occupational health and wellness practitioners play a key role in having the right person in the right job, conducting both assessments and referring workers for rehabilitation where necessary, and also in helping establish a healthy working environment.
"An OREP is a summary of the key risks of the job and is central to these activities," said Lynn Mynhardt, who described the value of this exercise as helping the company to identify its challenges and manage risks as well as comply with the equity act and the basic conditions of employment.
As delegates heard the closing sessions of the conference it is no doubt they left with a greater understanding of the context in which an IDC such as South Africa operates. 
By Kerry Peter
Source: