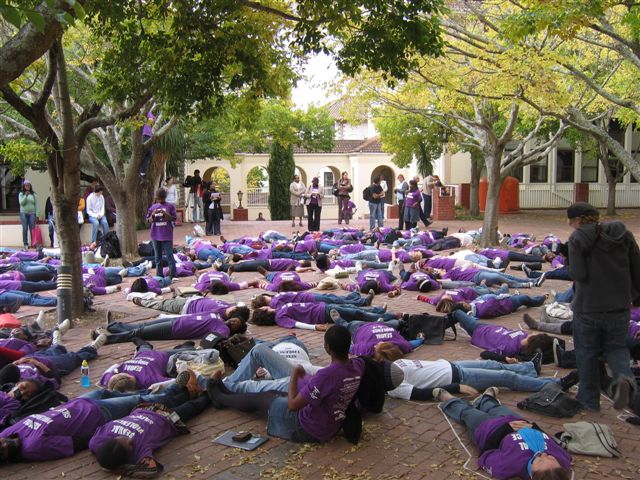 Rhodes > Faculty of Education > Latest News > 2011
1 in 9 Campaign on Friday
Date Released:
Wed, 13 April 2011 09:49 +0200
This Friday sees the 5th annual Sexual Violence = Silence protest, taking place predominately on the Rhodes University campus but incorporating a march from the Drostdy Arch down High Street to the Cathedral at 17h00, as well as the Take Back the Night march later in the evening.
The protest is being organised by the 1 in 9 Campaign in conjunction with the Rhodes University Dean of Students Office. The campaign aims to show solidarity with rape survivors who are silenced by sexual violence.
The protest has grown exponentially, and this year over 1200 volunteers, both staff and students, men and women, will be participating. Additionally, this year several members of the University's senior management will be taking part for the first time.
Sexual Violence = Silence has become the largest protest on Rhodes campus; even after five years the sight of young women with their mouths duct-taped shut has the power to shock and, hopefully, inform those around them. While the 'silent women' are possibly the most visible protestors, there are in fact three other types of participants: Rape Survivors, who wear T-shirts stating this on the front with an explanation on the back; male and female staff members; and students with health issues in T-shirts which state 'Solidarity with Women who Speak Out' and an explanation on the back.
The protest is staged every year to draw attention to the fact that Government statistics show 72 500 women are raped each year in South Africa, a frightening and totally unacceptable number. Even more dismaying is the fact that only 4% of perpetrators are successfully prosecuted, and less than 0.5% of these serve jail time.
The 1 in 9 Campaign derives its name from another statistic. According to research carried out by the Medical Research Council in 2005, only one rape in nine is ever reported, a statistic which translates to a horrifying round figure of 650 000 rapes annually.
The purpose of the Sexual Silence = Violence protest, therefore, is to highlight State silence around rape, and confront its inability (or unwillingness) to support rape survivors and prosecute rapists. It is also a symbolic act to represent the 8 in 9 survivors who do not report their violation.
The protest runs from 06h00 to 23h00 on Friday 15 April. From 12h30 to 14h00 there will be a die-in in the quad outside the library, and the Breaking of the Silence will happen after the march at 17h30.
For more information contact Larissa Klazinga: l.klazinga@ru.ac.za.
Story by Jeannie McKeown
Source: