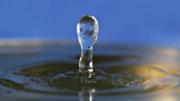 One step closer to another Earth
Astronomers have developed a new technique to detect water in the atmosphere of distant planets, a major boost for the search for habitable worlds.
Plan to use mine water for Witwatersrand's supply
The government would like to see desalination plants used to treat acid mine drainage water. These could supply up to 5% of the needs of the Witwatersrand, South Africa's industrial and mining heartland.