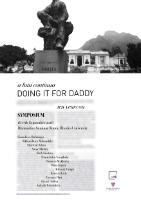 Rhodes Fine Art
A Luta Continua: Doing it for Daddy – Ten Years On…
Humanities Seminar Room, Rhodes University Friday, 16 September – Saturday, 17 September 2016. In 2006, the short essay 'Doing it for Daddy' by visual artist Sharlene Khan caused controversy when it expressed the opinion that since 1994, 'transformation' in the visual arts field in South Africa seemed to have halted at the point of White women replacing White men in positions of power. It questioned this new position of dominance in institutions that remained colonially and racially untransformed.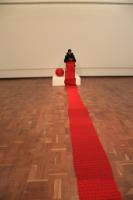 http://artthrob.co.za/2016/07/13/a-river-of-blood-flows-lerato-shadis-noka-ya-bokamoso/
A River of Blood Flows: Lerato Shadi's 'Noka Ya Bokamoso' Lerato Shadi By Sikhumbuzo Makandula July 13, 2016
The title of Lerato Shadi's show, 'Noka Ya Bokamoso,' which opened at National Arts Festival in Grahamstown, translates from Setswana to 'a river of tomorrow.' In the Albany gallery you encounter Shadi performing Mosako Wa Nako. She sits silently crocheting a ball of red wool into a scroll which unfurls with indecipherable writing. Shadi's isolation from the rest of the artworks on the exhibition draws you closer, emphasising the rhythmic movement of her hands. The performance suggests issues of labour, time and erasure of black women's histories. The simple gesture of crocheting can be also read as a form of preserving the culture of her ancestry and articulates both her struggles and hopes. In a conversation with Shadi she states that, 'this exhibition is a way of honouring her grandmother in thinking about her history that is overlooked and erased.'
Black Mark in collaboration with The Point of Order
Black Artists/White Labels – a response to the exhibition 'Black Modernisms'
The recent three-way public conversation between the staff of the Wits Art Museum, initiated through Lwandile Fikeni's article 'Black Modernisms, White Saviours' published in the City Press on the 'Black Modernisms' exhibition currently running at the same Museum, has prompted a series of debates on social media and other art platforms. Much of these debates focused o,, what now seems to be personal accusations, attacks and public slander, moving away from what was initially about larger issues of institutional power, transformation and knowledge production on the works of black modern South African artists.