Christine Dixie at Smithsonian Earth Matters
Christine Dixie, lecturer in the Fine Art Department at Rhodes University is one of the participating artists in the exhibition Earth Matters: Land as Material and Metaphor in the Arts of Africa which opened at the Smithsonian African Art Museum on April 22. She attended the opening ceremony which was addressed by Richard Kurin, Ph.D. Under Secretary for History, Art, and Culture, Smithsonian Institution and Johnetta Betch Cole, Ph.D. Director, National Museum of African Art.
Silent Protest by Fine Art lecturer
Silent Protest is a five minute video artwork made by photographer/film-maker and lecturer Brent Meistre for the Rhodes University Silent Protest. In the work Meistre performs two songs, one by the music group Belle and Sebastian and another by The Cranberries, in a discourse and interplay between himself and his double. Meistre is presented as a preacher/politician or mourning figure in a desolate landscape, who is reading a speech to an absent audience.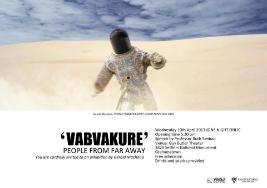 'VABVAKURE' (People from Far Away) - MFA Exhibition Opening
'VABVAKURE' (PEOPLE FROM FAR AWAY) By GERALD MACHONA, MFA candidate in the Fine Art Department and member of the Visual and Performing Arts of Africa Focus Area research team. Date: Wednesday 10th April Time: 5:30 pm Venue: The Guy Butler Theatre stage, 1820 Settlers National Monument Opening speech by Prof Ruth Simbao Drink and snacks will be available. Admission free.