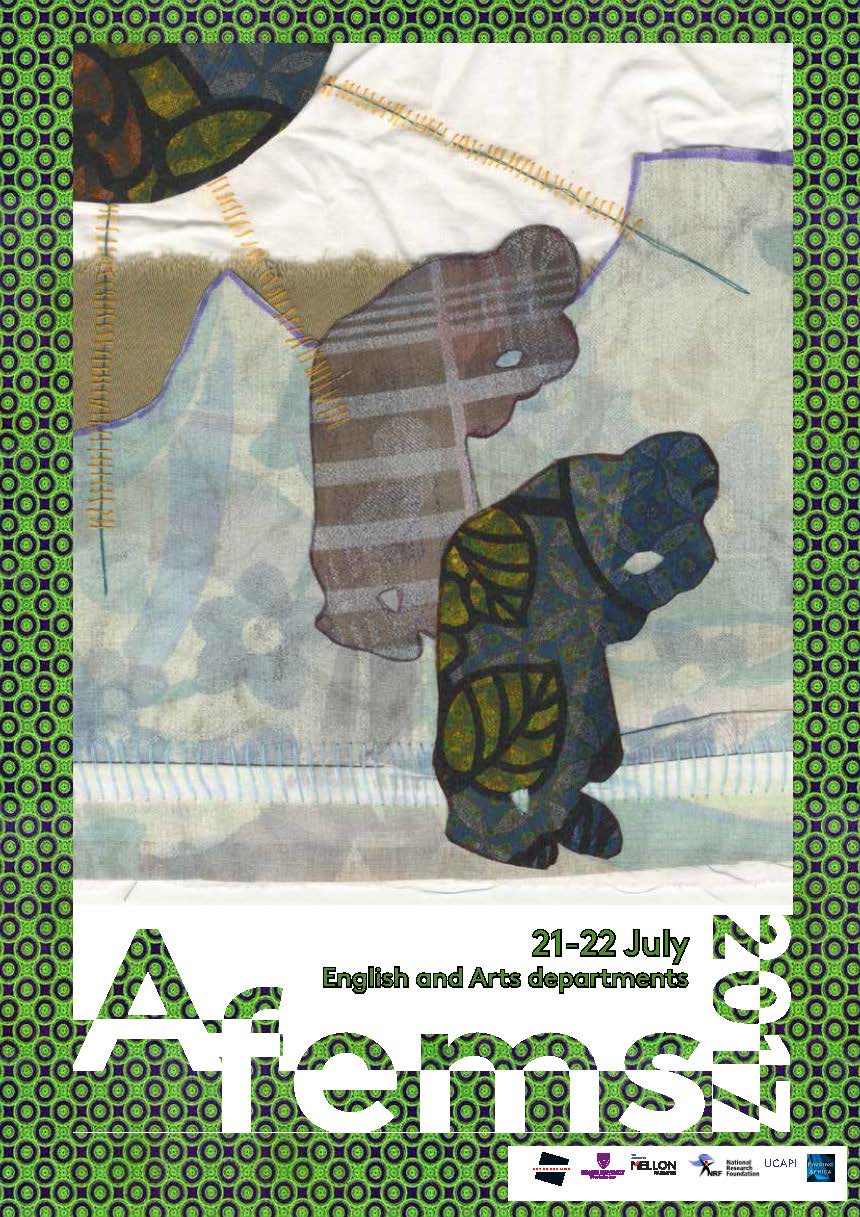 Rhodes > Fine Art > Latest News
Six Mountains on her Back: (Re)reading African Feminisms Colloquium
Date Released:
Mon, 17 July 2017 10:10 +0200
PROGRAMME
FRIDAY 21 JULY 2017
Fine Arts Department
9h Registration

9.30-9.50h Welcome and Opening - Thando Njovane (UCKAR)
10.10h-11h Keynote Address: Feminism as Pedagogy
Dr Danai Mupotsa (Wits University)
PANELS
English Department Seminar Room
11-13h Women and Visual Arts
An African feminist conversation about the KhoiKhoi and San women in the Rock Art of South Africa – Beverly Barry (UCKAR)
Feminisms in Visual Culture; Un- silencing historically marginalized artists – Amy von Witt (UCKAR)
'Defining ambiguity': Theorising a politics of a ectivity in contem- porary South Africa through Mary Sibande's 'Sophie'– Erin de Kock (UCKAR)
Chair: Dr Sharlene Khan

Fine Arts Department Seminar Room
11-13h African Feminist Thought
A Stiwanist Study of Selected Works of Francophone Authors – Joy Joseph (UCKAR)
Womanism and Critical Method in African Diaspora Writing – Brendon Nicholls (Leeds)
The re-articulation of a holistic African female subjectivity in Kol- eka Putuma's Collective Amnesia – Manthipe Moila (Rhodes)
Chair: Dr Betty Govinden
English Department Seminar Room
14-16h Intersectionality
Pompoms and Struggle Songs: The Limited Space for Feminism in #feesmustfall – Chelsey Wilken (Rhodes)
Towards a Decolonial Feminist Dis- ability Studies for Southern Africa – Kharnita Mohamed (UCT)
Patriarchy Masked as Decoloniality: Problematizing 'Decolonial' Masculinist Critiques of Intersectionality – Marzia Milazzo (Rhodes/Vanderbilt)
Chair: Dr Danai Mupotsa
Fine Arts Department Seminar Room
14-16h Alternative Spaces
The politics of erasure and exposure of the black female bodies in site- speci c performances. Discussing Woman in a Passage (2014) by Pu- melela Nqelenga
Towards eradicating domestic vio- lence in Nigeria: The peace education option – Chibuzor Nwobueze (Rivers State) and James Okolie-Osemene (Ibadan)
[Re]presenting Race, Rape and "white" justice: An auto-ethno- graphic study on the role of th Black female theatre-educator in Post-Madiba South Africa – Ayanda Khala-Phiri (UKZN)
Challenging sexism, misogyny and censorship: A search for alternative spaces for feminist discourses in Zimbabwe – Ncube Gibson
Chair: Siphokazi Jonas
Fine Arts Department
16.15-18.15h Thinking Through, Talking Back: Creative theorisation as Sites of Praxis-Theory. An Art on our Mind creative dialogue between Dr Sharlene Khan, Prof Pumla Dineo Gqola, Dr Yvette Abrahams, Prof Neelika Jayawardane and Dr Betty Govinden

18.30 Launch of artist book 'I Make Art' by Dr Sharlene Khan

Perfomance Poetry by Siphokazi Jonas and Betty Govinden

Exhibition: BEING HERE, BECOMING HER (curated by Refilwe Nkomo and Thato Mogotsi) in conversation with with UCKAR performances and artwork by Heidi Sincu- ba, Erin de Kock, Khwezi Zungu, Samkela Stampe and Akissi Beukman (co-curated by Buhle Siwendu and Sharlene Khan)
SATURDAY 22 JULY 2017
English Department Seminar Room
9-11h Labour
An intersectional analysis of work place discrimination in South Afri- can labour markets – Jamela Hoveni (Rhodes)
Perpetuation of female dependency syndrome in South Africa mirrors religious narratives: The case of Ruth – Thembinkosi Twalo (HSRC)
The unfolding of African feminism in CODESRIA – Nimi Hoffmann (CODESERIA and ISER)
Chair: Prof Pumla Gqola
Fine Arts Department Seminar Room
9-11h African Feminist Literary Readings
Demolishing the mountain within: Debunking patriarchy and self-re-flexivity in African Women's Writing – Susan Okpala (North-West)
Queering Domestic Space and Re- productive Time in Zöe Wicomb's "Mrs Pringle's Bed" – Jenny du Preez (Rhodes)
The Future of African Feminisms/ Miriam Makeba and Cosmo-exis- tential Feminism – Palesa Mokoena (UCKAR)
Chair: Thando Njovane
English Department Seminar Room
11.15 Economics and Policy
South African foreign policy and its implications for feminist Inter- national Relations: the legacies of Nkosazana Dlamini-Zuma and Maite Nkoana-Mashabane – Siphokazi Magadla and Nica Cornell (Rhodes)
African Feminist Futures: Fashioning Life in a Neoliberal World – Miriam Kilimo (Emory)
Chair: Dr Yvette Abrahams
11.15-13.15h Imaging Women
Paw-Paw Politics: Lady Skollie and the Curating of Contradiction – Wamuwi Mbao (Stellenbosch)
Women in African Cinema: Female Identity on Screen – Lizelle Bisscho (Glasgow)
Re-imagining African feminism through the Afro futuristic lens – Tshepiso Maleswena (Wits)
The Message of Misogyny in Hip- Hop Music and its Gender Dynamics – Mamaputle Boikanyo (Rhodes)
Chair: Prof Neelika Jayawardane
English Department Seminar Room

14.15-15.15h Sexuality
Looking at disruption within feminist and anti-rape activism – Gorata Chengeta (Wits)
Bisexuality in South Africa – Zuziwe Khuzwayo (HSRC)
Chair: Prof Pumla Gqola
Fine Arts Department Seminar Room

14.15-15.15h Life Writing
(Re)visiting writing race-d queer-ness: a fictocritical exploration of writing the race-d queer South African Womxn – Chantelle Croeser (Stellenbosch)
A song in the night: the feminist ordeals of Norah Mumba – Ranka Primorac (Southampton)
Ekhaya nasemzini: Negotiating home in Noni Jabavu's life narratives Drawn in Colour: African Contrasts and e Ochre People – Athambile Masola (Pretoria)
Chair: Dr Lynda Spencer
Closing Remarks - Dr Lynda Gichanda Spencer
This event is funded by Finding Africa, UCAPI, The Andrew Mellon Foundation, the National Research Foundation, Art on Our Mind Research Project and Rhodes University.
Source: Finding Africa and the Departments of English and Fine Art