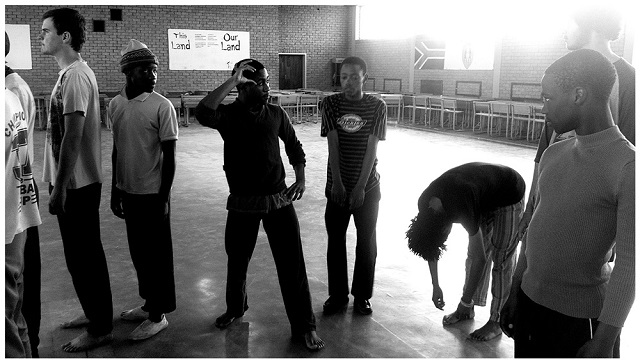 Rhodes > First Physical Theatre Company > Latest News
THE GATHERINGS/ INTLANGANO
Date Released:
Mon, 24 November 2014 14:02 +0200
The Gatherings/Intlangano was an exciting community exchange project that grouped Rhodes University students with local Pantsula dancers to form an open dialogue that investigated social conflicts: challenging inherited power dynamics and exploring new means of interaction. First Physical member and head of the project, Nomcebisi Moyikwa, aims to promote critical and creative thinking in her participants, developing commitment and engagement. The workshops ran for two months in which participants actively explored a variety of solutions to social problems.
"The process of making is an experience that focuses on human subjectivity, experience and creativity. It starts with people living their lives and investigates their talk, their feelings, their actions and their bodies as they move around in the social world and experience the constraints of history, of inequalities and exclusions... It is through this process that we learn to move beyond our mistakes and envision a solution," says Moyikwa.
Source:First Physical Theatre Company