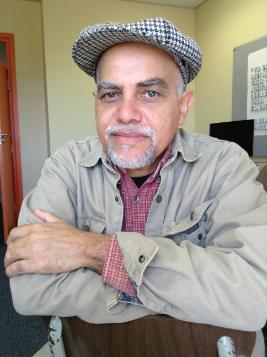 Rhodes > JMS > Latest News
100 years of dispossession
Date Released:
Mon, 26 August 2013 13:12 +0200
Documentary photographer Cedric Nunn has joined the School of Journalism and Media Studies as a Mellon Senior Scholar for the second semester of 2013. Nunn has embarked on a photographic project in the Eastern Cape this year in which he is documenting land use and dispossession as part of a larger project to mark the 100th anniversary of the 1913 Land Act.
Historical dispossession continues to have effects on the realisation of full citizenship for many in this province and across South Africa, and the issue continues to be raised as an unresolved national issue from the apartheid era. He has received a Mellon Senior Scholar grant from the Rhodes University Research Division to continue the project, and during his stay he will teach photography in the School.
"I feel incredible sadness and pain when I see the degraded lives that people are forced to live in this country."
In this podcast Nunn speaks about his origins as a worker on a sugarmill plantation, his love for the land, photography as a powerful medium and the responsibilities of photographers as practitioners.
Photograph by Harold Gess
By Annetjie van Wynegaard
Source:Rhodes JMS