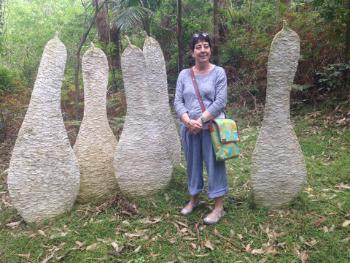 Rhodes > JMS > Latest News
Anthea's adventures in Oz
Date Released:
Thu, 28 November 2013 09:28 +0200
Professor Anthea Garman is spending the next six weeks in Australia at the University of Wollongong as a visiting lecturer. On Thursday 21 November she presented a seminar on the state of media and democracy in post-apartheid South Africa. Garman teaches writing and editing and media studies in the School and she is the co-director (with Prof Herman Wasserman) of the Mellon-funded research project "Media and citizenship: between marginalisation and participation".
Read more about Garman's trip on the Wollongong website. Between educating Ozzies about South African media, Garman has found time to be a tourist. She's visited the Wombarra Sculpture Garden rainforest, walked through Hyde Park and looked at the Anzac (Australia New Zealand Army Corps) memorial so far.
Download the PowerPoint presentation of her speech, The South African media post-apartheid‌ and listen to her unedited talk here.
Photographs supplied.
Source:Anthea Garman