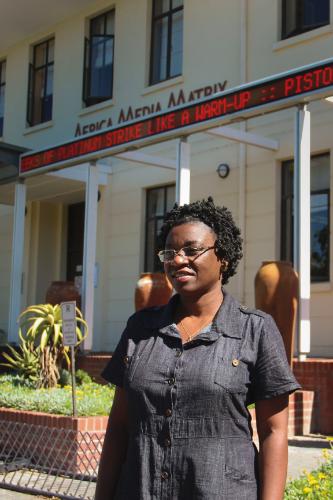 Rhodes > JMS > Latest News
"The business has spoil"
Date Released:
Mon, 24 March 2014 09:29 +0200
By Ettione Ferreira
From January 2014 we have had the pleasure of hosting visiting professor, Araba Sey, a research assistant professor at the University of Washington in Seattle, USA. Prof Sey was invited to our School by Prof Lorenzo Dalvit, MTN Chair for Media and Mobile Communications.
Sey moved to America in 2002, after completing her masters degree at the University of Ghana. She continued her studies with Manuel Castells as one of the supervisors of her doctoral degree at the University of Southern California.
Sey's thesis research focused on the use of mobile payphones in Ghana. She started off with a simple research question, "How are Ghanians adapting mobile phones to local conditions?" but soon she changed tack. In 2005 she found that the mobile payphone business was thriving in Ghana with payphone providers spread out throughout the area. The connection between these payphones and poverty stood out and Sey found her research taking a different turn. She identified two ways in which poverty and payphones were connected: poor people cannot afford to own phones and therefore make use of the payphones to communicate and the payphone business offers poor people an opportunity to make a living.
However, when Sey returned to Ghana six months later in 2006, she found a very different situation. "About..a quarter of the way through, doing my interviews and observing, I started hearing from the mobile payphone operators this refrain: 'The business has spoil, the business has spoil'," Sey says. She started looking into the decline of payphone popularity and found that credit transfers were to blame. With the help of a professor at the University of Ghana, she became more interested in sustainable livelihoods as a theoretical approach to her study. With the approach she is able to capture the larger environment in which the poverty-stricken people found themselves and how they got caught in the ICT sector.
Sey is in South Africa for the first time and has been enjoying her stay. She says that the School of Journalism and Media Studies is different from what she has experienced at other universities but there are also a few parallels that she has noticed. "I love Grahamstown…I want to come back here…I like the environment here," she says.
Tune into our Soundcloud channel for the full interview with Professor Araba Sey, https://soundcloud.com/#rhodes-jms/interview-araba-sey
Source:Ettione Ferreira