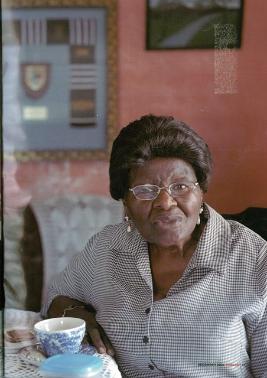 Rhodes > JMS > Latest News
Finding MaMbeki
Date Released:
Tue, 17 June 2014 12:31 +0200
By Gillian Rennie, Photos by Jenny Gordon
We looked for Epainette Mbeki, the state president's mother. But we found an activist, an entertainer, an organiser and entrepreneur, a builder of lives and communities, a tiny woman of might. We found MaMbeki. Her feet often swing girlishly above the ground when she's seated. Her watchstrap hangs loosely as her slender wrist moves to make a point. Her voice is wispy, and pitched very high. With a distinctive rasp, she delivers opinions that are candid and succinct. "My life is not my own," she says without bitterness.
Instead, she spends her life on others. She leads, cajoles and commands. She is magisterial, but never imperious. For her, you'll do anything; alongside her you feel capable of anything. Meeting her is like coming upon a waterfall in a dry landscape. She laughs generously. Sometimes it's a giggle, sometimes a windy gust. Often, she's looking about, checking that you're with her, laughing your head off too. Occasionally, she can hardly get her words out before the guffawing takes over.
Sometimes, though, it's hard to see the joke. She can crack up unexpectedly if her elder son is mentioned. She makes a show of being amused by the annoying fact that so many people think that, as his mother, she has a hotline to the president. "They come with all sorts of problems," she laughs, "problems that are beyond me. They think that because I'm the president's mother, I'm next to him politically, whereas I'm the very last person – politically.
"Even for my own problems, it's difficult to get hold of him." He's too busy to speak to his own mum? "That's right. That's right. He's dealing about this and that and the other thing." But her daughter-in-law, Zanele, communicates with her regularly, she says.
Could she see a president in the child? "No!" She yelps. "No, he was just an ordinary young man like everybody else. But he read books at an early age which we thought were not for his standard. And he was not talkative. He was reserved, even as a young person. And he had very few friends because, you know, his mind was above average. Then he was not exactly an ordinary normal African young boy."
For a woman who has so much to say about so many things, it must be boring to always be asked about her elder son. "And there's not much to say," she splutters, before being engulfed by her own gales of laughter. Not much to say about Thabo Mbeki? "No!" Guffaws engulf her lively eyes. The conversation about South Africa's president is now closed. "She and Thabo are living different lives," explains a friend. "She likes to mix with people who are not well-known and she doesn't like to be recognised."
She doesn't like her most personal feelings to be recognised either, and laughter is her armour. "Through a sense of humour, I managed," she admits, referring to the political period of "hell" she endured before South Africa's democracy. Her husband, Govan Mbeki, was jailed, her children were exiled and her lastborn, Jama, died in mysterious circumstances in Lesotho.
"You know, when I see somebody with a long face, really I sympathise with that person." She erupts with a small shout. "You must laugh!" And everyone in the room does, dispelling dark memories of her past.
In February, MaMbeki will be 90. "I've got one foot above the grave!" She smacks her knee as she cracks up. "There's no time to be ill – health problems are man-made. When my husband was in jail and my children were in exile, there was nobody to sit and sympathise. So then," she says, matter-of-fact again, "you don't get sick."
Nor does she intend slowing down, not while she still has visions to realise. "I haven't really reached the highest point in life," she says. "Because I don't want it for myself. I want it for the greatest number."
MaMbeki has been instrumental in founding a secondary school, a shelter for street children and orphans, a hospice, a beadwork project and a vegetable-growing project. And that's just in the past few years. She assists the streams of community members who call on her for help, advice and leadership. Eastern Cape premier Nosimo Balindlela is said to value her opinion. Still, she insists, she has not reached the greatest number. "No! No! Not by any means." And so she lives where her work is cut out for her, in Ngcingwane, a small rural village near Dutywa in one of South Africa's poorest municipal districts.
Except for the police guard at the entrance, MaMbeki's house is no different from any of her neighbours. It is painted a distinctive and stylish coral orange, and its rooms sprawl around a cement yard where chickens flutter and a tractor is parked. A large tin shed to one side shelters the beadwork project, a new plough, and Nkosana Sangqu, a nurseryman carefully sifting cabbage seeds into seedling trays. Next to the wheelbarrows there is a dining room chair. MaMbeki sits down whenever she can.
Potatoes grow in a fenced patch behind the donated tractor. Across the road, in a neighbour's yard, two black pigs are busy. Villagers tripple down the dirt road to MaMbeki's shop, and exchange coins for small purchases. Aloes struggle against the rusting wire fence.
"The Transkei is a rural area. You have to live here to see the misery. And you feel it," she says, plucking the skin of her forearm. "Our government is trying bit by bit, but it hasn't touched the very lowest point."
She speaks with a clarity borne of careful thought and conviction. She says, "I wouldn't do as a member of parliament. You have to live with the people, you have to move among the people, to know their conditions."Quite often, MaMbeki stops to search for the right words. "You know, to see people poor is not nice. It's primitive. But then you try and improve conditions." She is silent again. The Transkei presses in on us. Outside women in traditional dress are singing. "Naturally, you intertwine with the people. That's why I can't just leave it."
She's had a few offers. One came from former Eastern Cape Premier Makhenkesi Stofile, after she'd given him her "religion". MaMbeki's religion of agriculture is a vision in which the government owns the land; employs people to farm fruit and vegetables along the coastal region, sorghum and mielies in the midlands, and wheat higher up; provides clinics and schools, and gradually improves social and economic situations.
"Premier Makhenkesi says, 'I think you should belong to my government'. I say 'no, that's not proper because, when I get there, I'll be as dull as you people – I'll be just as dull'." We laugh loudly: a cackle of recognition, a defence against dullness. Then it's back to business.
"People's lives have improved, though not at the rate we would like. The rural areas are the weakest link in government," she says. "In South Africa, the greatest number of people are in the rural areas." So she carries on doing what she was born to do, with the Xhosa people she was born to work with. Far from committee rooms where the powerful make policies, MaMbeki exercises her personal power.
One of her co-workers in the community says: "She is not like other retired people, getting a pension and saying 'let me play golf and fish a bit'. The old lady is a humble person." An office worker in Dutywa says: "She would help anyone in her own capacity, as a woman. But not because she's Thabo's mother – she hates that." Another community worker says: "People, when they see MaMbeki, they work very hard. She is a person of the people." MaMbeki says she will never stop working.
She used to rise at 5am but, as a concession to her age, she now gets up at 6am – every day. "I can't lie in bed, it's not comfortable. I am used to getting up and going to the fields." Nomaka Epainette Moerane, the sixth of seven children, was born at Mount Fletcher, at the foot of the Drakensberg mountains. When she was a girl, she had to drive the birds away from her father's sorghum fields early every morning. "Then, when it was time for school, I would wash quickly and go. After school, when it was cool again, I would have to run back to the fields. So, you see, I am used to getting up early. Working is natural to me, it keeps me going – like reading."
MaMbeki's work ethic is central to her professional life as a teacher, and her way of life as a community worker. Many press articles refer to her and her husband as "teachers and communists". Her response to this is scornful hilarity. "Is that the best they can say about us?" She tosses her head back for a good, clean belly laugh.
Well then, how would she describe MaMbeki? "OK, let's go," she says, wiping the smile off her unwrinkled face. "To begin with, she's Sotho-speaking. She is stereotyped, insisting on her pap, just as she had as a child. She's a hard worker, and she would like everybody to be a hard worker too. She's a fanatic for education: every child should have facilities for education up to the highest level. And she likes community work, working with people."
Every project she works on carries the MaMbeki trademark: her projects are summoned to life by social need, their visions bear no relation to their non-existent budgets, and they are staffed by unusually committed community builders. The Khanyisa beadwork project has saved traditional beading knowledge from extinction and offers lifelines to 24 local women. The Linda Mbeki Hospice, operating from the former Mbeki family home in Mbewuleni and named after MaMbeki's daughter who died last year, had a staff of three plus 35 careworkers before it had any beds.
Down the road from her home, MaMbeki has established a technical school for grades 10 to 12. Every classroom serves at least two functions, there are not enough toilets, the principal does not have a proper office, there is no staffroom. Yet the Nomaka Mbeki Technical Senior Secondary School has been designated one of the district's four S4 schools (the highest category); it has produced the second best netball team in the province; it is one of only four Mandela schools, promoting the social and economic interests of the community, and its students have reached national level in debating contests. "Education is a process," says MaMbeki. "We haven't reached my ideal – but we're on the way there." She still wants a library, laboratories, and reading material. "If I die before this is achieved, I'm going to be a spook. I'm going to come back and persecute everybody until my ideal is reached." The school principal, Bob Mngxitama, corroborates. "MaMbeki will go to Bhisho as a ghost."
When MaMbeki criticises, her comments are rooted in concern. "The government is doing something," she concedes, "but I still fear there should be planning. Planning. These students, they pass their grades and then they are lolling about here with their education. That's wrong. The government insists that all children must go to school. They go to school and then, when they reach a certain level, that's the end." If she ran the country's education, farming would feature in the curriculum. And she'd be planning ahead – but not with the help of an older person.
"You always think that old people know better. But don't rely on them 100 percent. Allow somebody who is still developing to pass you and you should listen to that person." Thabo Mbeki is on record as saying that he is what he is because of the wisdom his mother taught him. "I wouldn't call it wisdom," says the mother in question. "It's an attitude, the attitude of self last. He should forget about the ego and listen to the next man. That's really what he must do." The room is still now; no one is laughing. "I think he has managed," she says quietly, "I think he has managed."
He has a difficult job, I say. "Terribly difficult," she agrees, "terribly difficult." And the president's mother falls silent.
"I haven't shown you my awards," she brightens. "Come this way and I'll show you." A small front parlour is furnished with a pink velour lounge suite, a photograph of Govan Mbeki, a television (she watches news mostly), and an array of precious mementos – mugs with pictures of grandchildren and the awards. MaMbeki points out her Community Builder of the Year award ("I went all the way to Johannesburg"); her Nafcoc founder member award; her Transkei chamber stalwart award; her King Cetshwayo African Image Award; the Eastern Cape arts and culture award for Khanyisa ("Nosimo gave me that one"); and others. There is also a carriage clock, given to Govan Mbeki as chancellor of the University of Fort Hare, and her husband's Vodacom Lifetime Achiever Award.
Adjacent to this room is MaMbeki's shop, the Goodwill Trading Store. She counts the cash every day and does her own bookkeeping. "Hours? We open the shop as soon as money is visible," she announces. "When it's too dark to see money in your hand, it's time to stop work for the day."
F‌or the article with photographs straight from Fairlady Magazine, visit our blogpost.
Source:Gillian Rennie, Vanity Fair Magazine