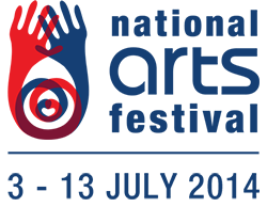 Rhodes > JMS > Latest News
Rhodes Alumni win at BASA Arts Journ Awards
Date Released:
Thu, 10 July 2014 13:58 +0200
by Ettioné Ferreira
On 6 July 2014 the Business and Arts South Africa (BASA) Arts Journalism Awards were held in Grahamstown in association with the National Arts Festival. This year six of the winners were Rhodes JMS graduates in the different categories; features, reviews, news and photography.
In the features category both silver special merit awards, along with a R1000 cash prize, went to alumni, Nick Mulgrew and Rob Boffard. Mulgrew did a three-year Bachelor of Arts degree majoring in Journalism and English graduating in 2010. He received the award for his story on drag artists in Cape Town, "Vida loves you" which appeared in Prufrock magazine where he works as associate editor. Mulgrew is also sub-editor at Cue for the duration of Festival. He received another award for the best story at National Arts Festival at the Short.Sharp.Stories Awards 2014. Boffard graduated from Rhodes in 2006 with a BJourn and works as a freelance feature writer, writing for media titles such as The Guardian, Mail & Guardian and The NME. Boffard sent two stories in; one on Mississippi hip-hop from The Guardian and one on KasiMP3 for Wired.
For reviews Ang Lloyd received a silver award and Steve Kretzmann received a gold award. Lloyd graduated in 2004 with a BA (journalism and history majors) and was awarded silver for her article in the Cape Times about the artist, Belinda Blignaut (http://www.iol.co.za/capetimes/reframing-the-victim-as-the-victor-1.1512508#.U7qSp_mSy2p). Kretzmann received the gold for his reviews of "Crazy in Love" at last year's National Arts Festival. The reviews were published on westcapenews.com as well as on the festival website (nationalartsfestival.co.za). He graduated in 1996 with a BA in Journalism and English at Rhodes. As a gold award winner he receives a R5000 cash prize.
Yazeed Kamaldien, a post-graduate diploma in media management graduate from 2006, received a silver award for the news and investigative category. He works at Independent Newspapers in Cape Town. The silver award for photography went to Alet Pretorius who is a photographer for Media24's newspaper photography section, Foto24 in Pretoria. She graduated in 2002 with a BJourn degree, specialising in photojournalism.
Judges in this year's awards were all prominent names in arts and journalism, including: Avril Joffe, Fred Khumalo, Gwen Ansell, Neo Ntsoma, André le Roux, Herman Wasserman and Ryland Fisher.
We congratulate our alumni on their great achievements at this year's BASA Arts Journalism awards!
Source:Ettione Ferreira