Rhodes > JMS > Latest News
RUTV Alumna wins big for 'Becoming Who I Was'
Date Released:
Mon, 8 May 2017 11:19 +0200
By Ettioné Ferreira
Jin Jeon, RUTV4 alumna, produced and co-directed the documentary 'Becoming Who I Was' which won the Grand Prix for Best Feature Film in the Generations Kplus category at the Berlin International Film Festival this year. Only one percent of submissions end up being featured at the Festival, which is one of the top three Film Festivals in the world, alongside Cannes Film Festival and Venice International Film Festival. So this is a huge achievement.
‌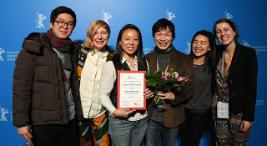 'Becoming Who I Was' is a Korean documentary film about destiny and unconditional love. It is based on the life of Padma Angdu, the reincarnation of a Tibetan high monk. The story follows Angdu on his journey to fulfil a sacred order. He is a reincarnation, and once recognised and appointed as a reincarnate, he is thrown out of the local monastery. This is not because of his actions or anything that he did or did not do. A Rinpoche is the highest ranking in Tibetan Buddhism also known as the 'Living Buddha.
The production of the film was done on-site in the Ladakh, Northern India at the foot of the Himalayas. Jeon worked as a producer alongside the award-winning Korean director Chang-Yong Moon to bring the life of Angdu to the screen. In 2009, Moon met the then five-year-old Angdu with his family in Ladakh. Filming was done between 2009 and 2016, making it an eight-year project in total. Jeon started working on the project in 2013 and developed the story as a co-director.
‌
"We never planned for this to go on for eight years! There were two major setbacks in bringing this story to completion. Firstly, during production, we had to spend quite a chunk of our time attending film markets in order to raise funds to continue shooting. This means pitching sessions, and that in itself is a whole lot of work and a different ball game, but absolutely necessary to acquire funding. Secondly, our main characters put off their journey towards Tibet for over a year due to the real fears that they had from all the news that they were hearing from Tibetans in exile. They had initially planned to embark on their journey in around November 2014. When they had first informed us of this plan, we knew that this would form a very significant moment in their lives and in the story. But this was put off until 2016, so we had no choice but to wait patiently, in order to capture an essential part of their life's journey," Jeon says.
Filming conditions were also very challenging: "We suffered from high altitude sickness, the minus degree winters with no heating system, frozen pipes, no running water (forget about showers), and no toilets as we know it – just a hole in the ground in the open space, sometimes. As a woman, it was a real challenge. We stayed at a local home in this remote village of Sakti, with limited food during the winter months, and we felt quite cut off from the rest of the world – no reception, no internet, no electricity except at certain hours. We had to plug in wherever we could, as we moved along, especially with batteries that would die so quickly due to the cold weather, and working with the lens that would steam up when moving indoors and outdoors. When it snowed heavily, we had to cover our cameras the best we could while still filming because we had no extra personnel to assist. It was all hands-on for us, as it was just the two of us and a local guide. Although there were challenges on a day to day basis, the natural beauty was just immeasurably breathtaking, which made up for the difficulty."
Jeon was raised in 10 cities across three countries – Kenya, England and South Africa. She spent her higher education in South Africa completing the BJourn degree at Rhodes in 2006 and a Masters in Media Studies and Practice at the University of Cape Town thereafter. "I knew that I wanted to study journalism in South Africa for my Bachelors, so I chose Rhodes because it had the best journalism school in SA," Jeon says.
Her message to aspiring videographers and journalists: "Get your foot in the door first, and work your way up. Don't hope to land your dream job from the onset, but be ready to do the dirty work first. Also think about finding a niche market – everyone has one, no matter who you are. It doesn't always have to be related to the obvious nationality or religion, for example, but it could easily be related to a hobby (sports, art, food), or anything else that you might have an interest in. Try to tie that with your line of work and think outside of the box. It could really take off."
View "Becoming I was" trailer here.
Logline: 900+ hours of film over 8 years documents an unparalleled story of unconditional love between a young 'Chosen One' in Ladakh and his ageing teacher, in the barren land below the Great Himalayas
Synopsis: Padma Angdu's world turns upside down when the monastery where he belonged expels him. Although he is recognised as a Rinpoche (a great reincarnation) in Ladakh, the unfaltering love of his teacher is the only thing that holds him together. With added pressure to study and to become someone great, the young Rinpoche begins to rebel and questions his identity as he enters into adolescence. Without any news from the disciples of his former monastery in Tibet, amid the growing gossip in his community, the soon-to-be teenage Rinpoche and his ageing teacher embark on an epic journey towards Tibet, in search of an answer.
*Photos supplied by Berlin International Film Festival & Jin Jeon
Source:Rhodes JMS