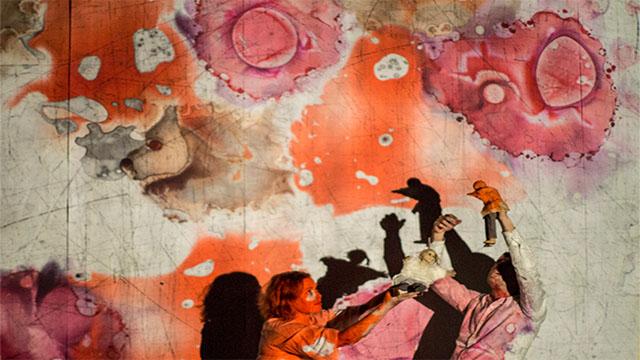 Rhodes > JMS > Latest News
Weaving wands of vocal wonderment in The Alchemy of Words
Date Released:
Fri, 7 July 2017 13:20 +0200
By Yasthiel Devraj
Naomi van Niekerk's ethereal production The Alchemy of Words can best be described as a symphony of pure creativity. The performance traverses a spontaneous, surreal landscape through a plethora of mediums, immersing the audience in a powerful tribute to seminal French poet Arthur Rimbaud.
Van Niekerk wields ink, water, markers, and pepper with incredible dexterity. An overhead projector spills her artistry against the blank-canvas backdrop. She illustrates Rimbaud's exploration of conflict and death, her brushstrokes riding the velvety strums of Arnaud van Vliet's guitar and stunning vocal renditions of Rimbaud's celestial verses.
The Pink Floyd-esque journey of love, loss, and acceptance is punctuated by a stunning performance from Yoann Pencolé, playing the role of Rimbaud, reciting his verse in the original French while also illustrating the narrative's progression through intricate puppeteering.
The Alchemy of Words does not hesitate to plumb the depths of senseless violence, grief, and trauma. At the same time, the production also affirms the resilience of the human spirit in confronting our darkest crises and continuing to persevere in the face of them; enjoying those small sanctuaries of human existence that remain forever etched in priceless corridors of memory, fighting to treasure the intractable beauty of existence — even its most terrifying aspects.
The camaraderie between the cast members is palpable, made visible through the seamless cohesion of entirely different mediums to create a powerful narrative exploring our most intimate struggle — riding, and appreciating, the peaks and trenches propelling us towards an impending mortality.
"Everything seen…
The vision gleams in every air.
Everything had…
The far sound of cities, in the evening,
In sunlight, and always.
Everything known…
O Tumult! O Visions! These are the stops of life.
Departure in affection, and shining sounds."
—Departure, by Arthur Rimbaud.
Photo: Yoann Pencolé and Naomi van Niekerk perform in The Alchemy of Words, a production that explores the narrative of Arthur Rimbaud, a French poet during the 20th Century. The performance incoporates puppets, artistic projections and sound (Photo: Megan Kelly/Cue).
Source:CueMedia