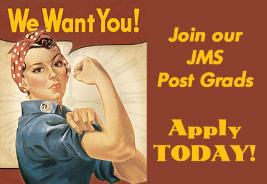 Rhodes > JMS > Latest News
Bursaries available
Date Released:
Thu, 26 November 2015 09:30 +0200
ECONOMICS JOURNALISM BURSARIES
Are you fascinated by economics? Are you passionate about having an impact on national debates? Then tune into the Rhodes School of Journalism and Media Studies. In conjunction with the South African Reserve Bank Centre for Economics Journalism, we are offering bursaries for candidates with strong economic journalism interests wishing to pursue post-graduate studies in 2016.
These bursaries are for candidates specialising in economics journalism during their post-graduate studies. All you have to do is apply to one of our post-graduate courses: the Post Graduate Diploma in Journalism & Media Studies, the Post Graduate Diploma in Economics Journalism, which is part time, or an MA or PhD. Specify a focus in economics journalism and send a motivation letter stating why you would be the perfect candidate for the bursary. Apply now, don't miss your chance to be a part of these exciting programmes! The deadline for applications is 2 December 2015. For more information about the application process and our post-graduate courses contact Dawn Long at d.long@ru.ac.za or visit our website: http://www.ru.ac.za/jms/degreesanddiplomas/
Daily Dispatch Gavin Stewart Bursary
Students who have been accepted into JMS4 in 2016 are invited to apply for the Daily Dispatch Gavin Stewart Bursary. The bursary was established in memory of Gavin Stewart who was head of the School of Journalism and Media Studies at Rhodes University from 1980 to 1992, and was Editor of the Daily Dispatch Newspaper from 1992 to 2004.
The Bursary is valued at R20 000.00. The recipient will also receive a 4 week paid internship at the Daily Dispatch, to be completed either during the June/July vacation or in December of 2016.
Preference will be given to candidates born in the Eastern Cape or whose families are resident in the Eastern Cape and who are able to speak two or more South African languages. The student should be academically capable. Students with pressing financial needs will also be given preference.
A shortlist of candidates will be compiled by JMS and forwarded to the Daily Dispatch (Times Media) for final selection.
Applicants who meet these criteria should send a letter of application, motivating as to why they should be considered for this bursary, together with an up-to-date Curriculum Vitae, to Simon Pamphilon (s.pamphilon@ru.ac.za) by 12pm Friday 8 January 2016.
Source:Rhodes JMS