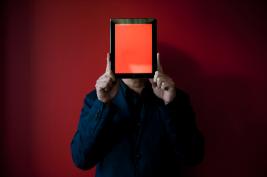 Rhodes > JMS > Latest News
The big digital migration
Date Released:
Mon, 22 September 2014 12:15 +0200
By Ettioné Ferreira
Chris Roper, editor-in-chief of the Mail and Guardian recently visited the School of Journalism and Media Studies to speak to staff and students about digital migration.
Roper is the first editor-in-chief to come from a digital background working for a major newspaper in South Africa. Before the Mail and Guardian he worked as editor-in-chief at Media24's digital platform, 24.com which is the largest online publisher in South Africa.
Here is Roper's take on digital journalism education in five questions:

Q: When did you start getting interested in social media and online journalism?
A: I've been working as an online journalist since 1995. It's always been interesting. Social media – depends how you define it. The earliest form of online social media for example, is bulletin boards like Usenet. So that's since the early 90s too, if not the 80s. If you mean social media platforms as popularly understood, then I guess about 2000 with things like Friends Reunited, or Friendster after that.
Q: What do you think is the importance for media institutions and media educators to start the transformation to digital journalism?
A: To start? If you haven't started already, you might as well give up. Seriously, go home.
Q: Following the question above, it seems like a necessary step for media to move towards digital journalism in SA but many educators are still not teaching about it. Why do you think people are hesitant to take the step towards online media?
A: Because they're idiots.
Q: Where are you from and how did you end up at Mail and Guardian?
A: Where? Cape Town. I've worked on and off for the M&G for a couple of decades as a correspondent from CT.
Q: How do you feel about digital journalism's future in SA? Do you see any progress?
A: I think it's thriving, and is the present. There'll be something else in the future, that supersedes it. All journalism is, or should be, digital now.
Source:Rhodes JMS