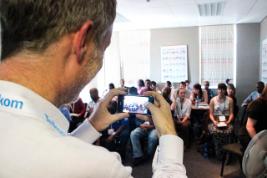 Rhodes > JMS > Latest News
Mobiles connecting communities
Date Released:
Tue, 16 September 2014 11:16 +0200
By Ettioné Ferreira
Lorenzo Dalvit introduced the colloquium on mobile communication, media and services at the Highway African conference with key words: "participation", "unlocking creativity", "community" and "sustainability".
The colloquium, the second Dalvit has run (the first was in 2012) included presentations from local and international guests; Hanna Thinyane, Laurent Antonczak, Steve Kromberg and Adam Clayton-Powell III.
"MobiSAM is a website encouraging citizen participation," Thinyane, an associate professor in Computer Science at Rhodes, said during her presentation. Thinyane heads the Mobile Research Group whose research focuse on mobile phone usage as a platform for service delivery. Her presentation covered the origins and general usage of the project MobiSAM (www.mobisam.net) which is a mobile site focusing on communication between community members and the municipality. The site provides daily reports on service delivery problems and daily updates on the reservoir levels to the Grahamstown community. The project works in collaboration with the Public Service Accountability Monitor (PSAM). "We saw the start of the project when it was just an idea, at the colloquium in 2012, but now we see how it's working. It's nice to see the evolution of the project," Dalvit said.
Former general manager of Grocott's Mail and lecturer in the Post Graduate Diploma for Media Management Steve Kromberg explained how the mobile platform, NiKA Now is used. Kromberg also asked two MA students, Kayla Roux and Mfundiso Miya to share their experiences in the research done about mobile technology in communities. Roux found that communities mainly used their phones for messaging and social media, whereas Miya emphasised the importance of language barriers. Instant messaging is a platform where people can communicate in their own languages and that gave insight into the popularity of this platform.
Laurent Antonczak showed that video on mobile phones could also be a significant platform for community participation through his project, The Big Idea. This project allows community members to shoot documentaries on their iPhones. For a look at the project, you can visit https://www.youtube.com/watch?v=5II_Ea3VXS4. Antonczak teaches in the Faculty of Design and Creative Technologies, combining technology with design. He is also the co-founder of MINA (Mobile Innovation Network Aotearoa). His presentation pointed out the importance of mobile use, "You always have your phone on you. You're always connected."
The closing speaker was Adam Clayton-Powell III, a Senior Fellow for International Mobile Studies at the University of Southern California. He has also worked in management positions at Quincy Jones Entertainment, National Public Radio and CBS News. Clayton-Powell explained the usefulness of a 3D map on mobile phones to instantly show where the news is happening. People can immediately post to the map exactly where there is a fire, for example, with a photo or video. His students are using this technique to explore buildings through surveillance cameras. However, Clayton-Powell advised, "I always warn my students to not look inside any type of government building which could lead to trouble." Google has also recently approached him to merge his 3D map (GeoDec) with Google Maps and Google Earth.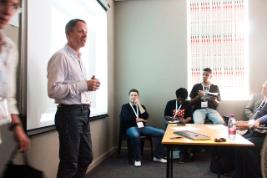 Source:Rhodes JMS