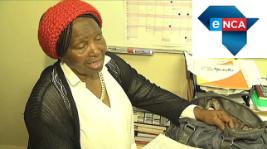 Rhodes > JMS > Latest News
Olive becomes a columnist
Date Released:
Fri, 11 September 2015 10:50 +0200
Nomonde Olive Ngesi, a Grahamstown local over 80 years old, wrote a letter to the editor a few weeks ago. Sue Maclennan, editor of Grocott's, realised her potential and offered Ngesi a weekly column called "Newtown, old eyes" which has become an instant hit amongst the readers. The news spread far and wide, even attracting a crew from ENCA (e.TV news channel on DSTV). You can follow her weekly column in the Grocott's Mail available in Grahamstown retail outlets every Friday or you can subscribe by emailing subscriptions@grocotts.co.za
Watch the interview with Olive Ngesi HERE.
Source:Rhodes JMS, ENCA