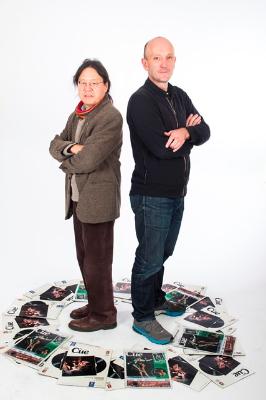 Rhodes > JMS > Latest News
11 days of amazing: the Cue story
Date Released:
Mon, 4 August 2014 09:11 +0200
by Ettioné Ferreira
Post-festival everything has gone back to the normal in Grahamstown but, it's hard to overlook the smaller new design Cue newspapers still in the reception area and the 'CueTube' videos playing over the AMM foyer televisions.
Seasoned media practitioners, Sean O'Toole and Darryl Accone joined the Cue newspaper team again as the editors this year. O'Toole shared his third year at Cue with Accone who has been a Cue editor for 12 years on and off. Accone started in 1995 when Prof Guy Berger asked him to be the arts editor and was editor again editor again from 2001 to 2009 and in 2013 and 2014. O'Toole was asked to join the team in 2012 by Brian Garman, after he completed a detailed independent report of the previous editions of Cue.
They were both asked to answer questions about their experience at festival this year:
How did you experience this year compared to other years?
O'Toole: "Lots more laughter than usual."
Accone: "Fun and exhausting, as always."
Do you have any favourite moments from this year's Cue?
O'Toole: "One night in a moment of frustration I suggested we work on a tabloid edition. I came up with some jokey headlines. Everyone somehow tapped into the silliness and for the next few days, as necessary comic relief, we pitched bogus tabloid headlines for an edition of Cue that would most certainly get us all fired and Rhodes University sued."
Accone: "When we had to ask a very zealous freelance contributor to leave the newsroom because the story the writer had been working on for days simply didn't work out."
What was the worst moment of this year's Cue?
O'Toole: "I recall a young writer spending three days writing the most epic article on the theme of Marikana at this year's festival. In newspaper terms that's basically the time it took Tolstoy to grow a beard and go grey. And, in the manner of epic journalism, the article never happened."
Accone: "It was finishing issue three at 1:30am – same time as issue two. You always believe things will get simpler, better, quicker. Eventually they do, but it can be crushing when they don't do as quickly as you'd like."
O'Toole is a freelance journalist and explains his job as, "getting up every morning and walking, um, 20 paces to my desk. That's about my routine as a media flunky." He co-edits the magazine, Cityscapes which appears twice a year while also regularly writing for the Mail & Guardian about arts and culture. He also writes for foreign publications which includes a column for the London magazine, Frieze. Accone is the Mail & Guardian's book editor and the director of the Mail & Guardian Literary Festival.
Will they be back next year? O'Toole's response: "Even though I always say it is too taxing physically – 9am to after midnight 11 days in a row, most likely, ja." Accone: "Yes, definitively, especially if my co-editor Sean O'Toole is on board again."
Photo by Ettioné Ferreira
Source:Ettione Ferreira