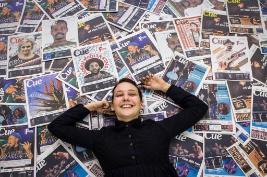 Rhodes > JMS > Latest News
Cue in retrospect
Date Released:
Mon, 28 August 2017 09:19 +0200
By Ettione Ferreira
Cue Media has made a wholly digital migration this year, due to funding constraints so severe it pushed the print edition into the grave. The great loss of Cue newspaper did not stop the JMS practice teachers from reporting on one of the oldest arts festivals in South Africa, and giving students yet another opportunity to produce live journalism. We spoke to Cue arts editor Miles Keylock (MK) and website editor Kayla Roux (KR), about the successes and struggles Cue went through in its new shift to totally digital:
1. How did Cue transform this year (from last year)?
KR: We made the radical shift from a well-known and much-loved Festival newspaper to a digital-first publication across multiple platforms. The migration from print to online was largely due to fiscal reasons, and Cue found itself in the same position as many other print publications around the world. Having said this, the challenge to enter the digital sphere allowed Cue to embrace its emancipatory possibilities. We were really excited to explore new ways to tell stories and interact with the people who matter to us – festival-goers, artists, performers, and arts lovers and patrons from all over.
2. How did you change the online content to keep on attracting festival goers??
KR: I was lucky enough to have been able to work on developing exciting, interactive multimedia content with the help of previous Cue Online editor Michael Salzwedel since 2014. This year I appreciated the opportunity to jump into the deep end and take my students with me. We incorporated multimedia into newsroom workflow from the beginning, where story ideas are discussed and perfected at the diary meeting. A digital-first approach to publishing allowed us to expand our thinking about the ways in which we can use audio, video, pictures, data visualisations, design, and of course well-chosen words, to tell stories. I believe that the change in workflow and flexible, responsive deadlines that come with the online space allowed students to produce more and better work in a rhythm that suited them rather than a mad midnight print rush.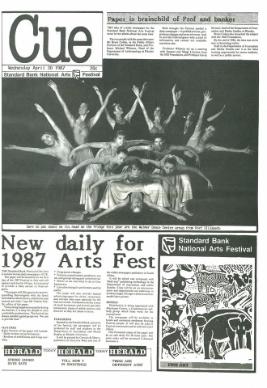 3. How many journalists/photographers worked on Cue this year?
KR: A total of 60 students and volunteers worked as reporters, sub-editors, designers and photographers across the three Cue projects this year (online, radio and television). This included three high school pupils from Upstart as well as a couple of local volunteers who relished the opportunity to gain some experience. We also hosted user-generated content from artists and arts enthusiasts.
4. What did you hope to achieve with the new and improved Cue?
MK: First, following the budget cuts which prohibited print, Cue online in 2017 was very much a pilot programme. The main aim was to explore what is possible when student reporters, writers, sub-editors, designers, photographers and videographers are given the opportunity to hone their skill-sets in a professional newsroom environment. The secondary aim was to establish just how much quality arts and culture content can be generated online.
5. Which aspects worked really well from your perspective and which didn't work so well?
MK: The students were literally thrown in the deep-end. For 10 days and nights the reporters were immersed within the entire newsroom process. From early morning editorial meetings where they pitched their story ideas and in-the-field reviews and artists interviews to photography, videography, editing and more, the students were expected to meet their deadlines. Most of them rose to the challenge to produce quality content. Most rewardingly, there were 10 students – writers, photographers, videographers – who more than embraced the opportunity and delivered work of a professional quality. The feedback from several productions, artists and indeed, other professionals, ranged from positive to outright praise.
What didn't work so well? While, the editor, production manager and staff mentors in each discipline (writing, videography and so on) were always available, a few students got "lost" in the hurly-burly of the festival newsroom.
6. What was the biggest challenge for you?
MK: Initially the biggest editorial challenge was "migrating" the large team of staff reporters, photographers and videographers from a "hard" or "soft" news mindset into an "arts and culture" mindset of critique. The mission was to help student reporters to free their creativity and translate their personal areas of potential interest (theatre, dance, music, comedy and so on) into a broader socio-historical-cultural and indeed, political perspective. Secondly, getting the different partner disciplines (Cue Radio, Cuetube and Upstarters) to work seamlessly together was a bit of a struggle. While there was some success, this hand-in-hand collaboration can definitely be improved on next year – in terms of generating quality and quantity coverage that meets the needs of all parties.
KR: I'm sure you know what I mean when I say that technology has a tendency to betray us in our time of need, and Cue was no exception. This was first time I have personally tackled a project as big and exciting as taking Cue online. It required a lot of learning-on-the-go, quick thinking and creative problem-solving from everyone on the team, but we pulled it off without any major disasters. Another challenge we all faced was promoting our online platforms in the absence of the newspaper and in the clamour of social media. Many people didn't know where to find us or what to do once they had, so reporters hit the streets with cell phones, tablets, and fliers to show people the hard work they were doing.
7. What do you hope to improve for next year? Where do you see Cue going in the future?
MK: Well, time to pre-prep would help! It's a miracle what was achieved with a single day of intensive workshops before sending students into the Festival arena. We hope to improve all the processes. We now know what structural improvements and human resource requirements are needed. This includes: possibly using a smaller similarly-skilled cadre of student reporters; more collaboration across the different Cue projects; time management of mentors, designers and so on. We also need dedicated advertising and social media management teams to ensure that Cue evolves from a Festival-only offering to an ongoing bona-fide arts and culture hub. And finally, we are exploring creative ways of bridging the digital divide!
8. The local Grahamstown vendors who used to sell the paper were a big concern as most of them depended on Cue for money during festival. How did you try to ensure they still had work?
KR: We were acutely aware of the gap that would be left by the newspaper once we went online, both in its physical presence at the Festival and as an annual source of income for the vendors, some of whom had been working with Cue for many years. We printed a free daily tip-sheet called Cue Picks, which was distributed by the vendors and featured the day's important announcements, tip-offs, and snippets of our best reviews.
9. What was the partnership with Grocott's Mail? How did it work and what did each party gain from it?
MK: The partnership with Grocott's permitted Cue Media to have a welcome print presence at NAF 2017. We produced two arts and culture supplements for Grocott's. Both the 12-pager (published on Tuesday 4 July) and the 16-pager (published on 8 July) featured the best work by Cue student reporters and photographers. Additionally, both supplements were designed by Cue Media student designers. This gave Cue reporters, photographers and designers the opportunity to have their work published in print. Grocott's also benefitted from quality coverage of NAF 2017.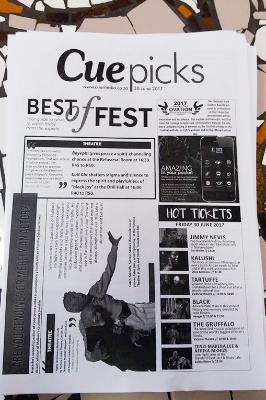 Source:Rhodes JMS