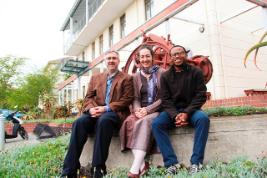 Rhodes > JMS > Latest News
Education through entertainment
Date Released:
Tue, 7 October 2014 12:03 +0200
20 YEARS OF EDUTAINMENT TELEVISION IN SOUTH AFRICA: ACHIEVEMENTS AND POSSIBILITIES
Rhodes University School of Journalism and Media Studies and Centre for AIDS Development, Research and Evaluation (CADRE)
Date: Thursday 9 and Friday 10 October 2014, at the African Media Matrix, Rhodes University
2014 marks not only 20 years of democracy but 20 years of entertainment education in the South Africa. The following proposal argues that as South African society reflects on reaching a milestone in democracy, health communication practitioners, educators and academics should also take the opportunity to engage in a discussion about past, present and future successes, opportunities and prospects in the field of EE.
The success of entertainment education in South Africa, such as the achievements of the Soul City and LoveLife interventions, have demonstrated how well young people can respond to creative health communication. This realisation has paved the way for the creative mobilisation of entertainment education formats on a variety of platforms.
The strategy of combining educational messages within entertainment programming has become familiar within the South African media landscape, and the country has become known for its internationally acclaimed television programming, such as Yizo Yizo and Soul City, which have been admired as leading the development of the genre. Other EE programs produced include Soul Buddyz, Tsha Tsha, Gazlam, 4play - Sex Tips for Girls, Heartlines, and more recent productions like Hopeville, Skeem Saam and Intersexions.
These programmes have not developed in a vacuum; they have been part of a long tradition that utilises broadcasting in particular to address past inequalities. But while television in has historically been central to EE's dissemination in South Africa, social media, radio and drama and peer-mentoring have also been employed in innovative ways. Intersexions in particular has been noted for its recent successful multi-platform approach that draws in audiences through social media engagement; Soul City connects it mass media campaigns to the individual through interpersonal engagement at a community level; similarly, Brothers for Life anchors their national campaign in community activities.
Thus it could be argued that the donor-driven investment that has been made in broadcasting as an educational tool in South Africa has reaped wider rewards than television alone can account for, given the paucity of funding and the lack of state-led interventions. Broadcasters, donors, activists and audiences have come to realise the value of entertainment education and the stakes are high for future interventions.
It seems appropriate, then, that this milestone of 20 years of democracy and of 20 years of entertainment education be used by researchers and practitioners in the health communication sector to examine its past achievements and possibilities for future developments. This is a call to bring together interested parties to hold a colloquium at Rhodes University to discuss the state of research that has been produced in the health communication discipline in the last two decades.
View full programme and EE Colloquium page
Source:Rhodes JMS