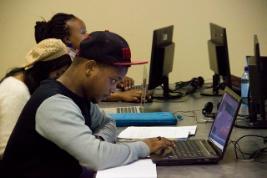 Rhodes > JMS > Latest News
June Examinations
Date Released:
Thu, 26 May 2016 15:21 +0200
The School would like to wish all students the best of luck with the upcoming examinations. We urge students to use swot week wisely and contact teaching assistants or lecturers should they have any queries about work before the end of the week.
The timetable is as follows:
Tuesday 07 June 2016 - PM (14:00) - JMS 1 writes a 3 hour paper in the Hangar
Wednesday 15 June 2016 - AM (08:30) - JMS 2 writes a 3 hour paper in Great Hall
"Far and away the best prize that life offers is the chance to work hard at work worth doing." — Theodore Roosevelt
C‌‌‌LICK HERE to view the RU exam timetable.
Source:Rhodes JMS