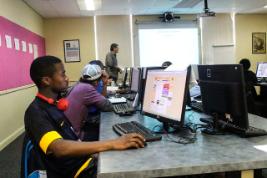 Rhodes > JMS > Latest News
Flex your digital muscles
Date Released:
Thu, 27 November 2014 10:26 +0200
By Ettioné Ferreira
With more than seven million people in South Africa logging into Facebook every day, it's difficult to ignore social media as a useful tool in the digital age. The importance of social media was emphasised during the one-day Social Media Boot camp which took place on 12 November at the AMM.
The boot camp was hosted by Steve Kromberg, former general manager of Grocott's Mail, and Michael Salzwedel, former digital manager of Grocott's, as part of the Makana Apps Factory initiative. The project was launched under iNeSI (Ikamva National eSkills Institute) in collaboration with Walter Sisulu University and Rhodes University.
"We gave an overview of the social media landscape, the trends, patterns, what's hot or not and reasons to use social media. It's really about listening to what your audience or customers are saying about you," Salzwedel says.
Participants came from all over the Eastern Cape, representing various walks of life. These included: Radio Grahamstown DJs, Keiskamma Hoek community stations, farmers, musicians, sports clubs representatives and many more. Kromberg adds, "basically anyone with a project they want to get exposure for could come to the boot camp".
The workshop encouraged participation; Salzwedel says, "There was a lot of practical activity. We tried to get the participants to engage with each other because social media is about engaging and being actively involved." The workshop concluded with ways to sustain activity and engagement in the long run.
Salzwedel worked as a digital media specialist at the SABC after leaving Grocott's Mail. He decided to exit the SABC and follow a more educational route. Kromberg helped the establishing of Makana Apps Factory since 2010 and now successfully run numerous workshops across the Keiskamma route. Kromberg and Salzwedel work together from Cape Town to educate people about the importance and effectiveness of digital technology and online media.
Source:Rhodes JMS