Rhodes > JMS > Latest News
Funke-Treasure the storyteller
Date Released:
Thu, 1 August 2013 09:05 +0200
Funke-Treasure Durodola is a Masters student in the Rhodes University School of Journalism, a multiple award winning broadcast journalist and one of Radio Nigeria's foremost Network Newscasters. Funke-Treasure captured her childhood memories in her debut novel, Memories of Grandma. In this podcast Funke-Treasure reads snippets from her book, talks about her influence in Nigeria as a public figure and her life as an MA student at Rhodes, and of course, the impact her grandmother has had on her life.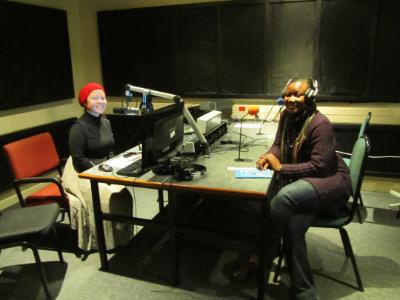 Funke-Treasure Durodola in the Rhodes JMS radio labs with Annetjie van Wynegaard.
Words by Annetjie van Wynegaard
To order Funke-Treasure's book email her at sharingwithtreasure@yahoo.co.uk
Source:Rhodes JMS