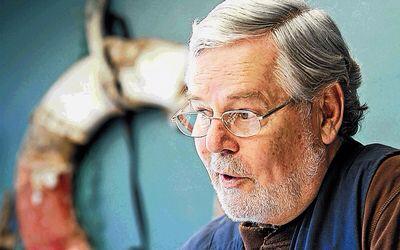 Rhodes > JMS > Latest News
Gavin Stewart: A Tribute
Date Released:
Fri, 21 February 2014 17:51 +0200
Former head of the Rhodes School of Journalism and Media Studies and Daily Dispatch editor, Gavin Stewart, died at this home early Monday night. At Rhodes, Stewart leaves his journalistic legacy behind in the form of his Grahamstown National Arts Festival newspaper, Cue, that he founded during his 12 years as head of the Journalism Department. He was editor of the Daily Dispatch from 1993 to 2005. He leaves his wife, Sue, and four children, two of whom were from a previous marriage, and four grandchildren.
"Importantly, through his sage leadership, Gavin managed to steady the Department during the politically turbulent '80s. Gavin left the Department in 1992 to take up the editorship of the Daily Dispatch, a position he held for 13 years. Gavin was a good and ethical person and he will be sorely missed," Professors Larry Strelitz and Lynette Steenveld said in their tribute to Gavin.
Throughout the week tributes have been pouring in for Gavin and we have decided to dedicate a post on our blog (http://journalismatrhodes.wordpress.com/2014/02/21/a-jms-tribute-to-gavin-stewart/) in honour of his memory.
Gavin Stewart will be dearly missed but his contribution in the journalism community will not be forgotten.
Source:Ettione Ferreira