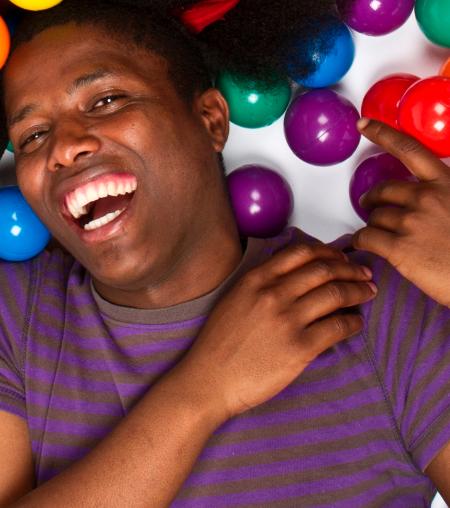 Rhodes > JMS > Latest News
Good bye, Lucky
Date Released:
Fri, 19 July 2013 16:28 +0200
Friday 19 July was Lucky Ndzoyiya's last day at the School of Journalism and Media Studies. Lucky started as a clerical intern at the School in June 2012, and after completing his internship in December 2012 he was offered a temporary position from January to July 2013.
Lucky is going to Lovedale FET College in King William's Town where he has secured an administration position. On Friday members of staff came together in the "fish bowl" (their term for the administration offices) for a celebratory cake and tea farewell.
About his new adventure Lucky says he's "a bit nervous, but ready for it".
Lucky comes from Lusikisiki in the Transkei and he holds a diploma in office management and technology from Walter Sizulu University in Umtata. He says he came to Grahamstown to experience cultural diversity, and the experience has been amazing. He enjoyed meeting new people, from students to professors and colleagues, and he often looked around him and thought, "Yoh, I'm in England!" He particularly enjoyed engaging in staff sporting activities like soccer, volleyball, and netball, and he never felt tense in the office.
"We're like a family," he says with a grin, "I'll miss them."
Lucky says he learnt a lot from the School, especially about their administration system and keeping record of every transaction. His most valuable lesson is, "If you don't understand, ask."
Belinda de Lange, administration manager of the School, says, "Lucky is very friendly, helpful and eager to help where he can. We wish him well in his new endeavour."
Lucky laughs: "I'll come back, don't worry!"
Words by Annetjie van Wynegaard
Photograph by Stephanie Lloyd
Source: