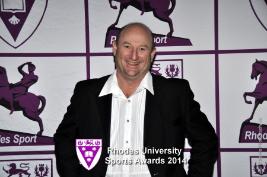 Rhodes > JMS > Latest News
Graeme Joffe returns to Grahamstown
Date Released:
Fri, 14 November 2014 12:39 +0200
I had the pleasure of being the guest speaker at the Rhodes Sport Awards last Friday night – always so good to go back to Grahamstown and the alma mater that gave me three of the best years of my life.
It's very nostalgic as you come up from Stone Crescent towards Grahamstown and I can't believe we used to run that steep hill in preparation for my one and only Two Oceans marathon.
Yes, Joffers (the current knife and fork champion) ran Two Oceans in 1991 – I didn't win it but my time of 5.37.27 was good enough to win the bet.
Rhodes football teammates, Craig Neave, Greg Farrell, Ant Hudson and myself made the bet over a couple drinks to run Two Oceans and the losers would have to buy dinner.
Initially, I thought they were joking but a few weeks before the race, I realized they were for real and I quickly had to qualify.
Fortunately, the Embassy Achiever in Port Elizabeth was a flat 42.2 km's.
The rest is history but I haven't forgotten Constantia Nek.
First stop in Grahamstown, the legendary, Albany club (conveniently situated across from my hotel, the Graham which has undergone good renovations).
The Albany club has got to be the one of the few places in the world where you can still get a steak, egg and chips for R30 and it doesn't matter what time of the day, you go in there, you'll find someone that you know.
That's where I found our old Rhodes team cricket manager, Jos Welman (one of my favourite characters) who doesn't look a day older than 78.
Also, Gregg Rippon (better known to some as the butcher) and part of the new crop of bird racing enthusiasts in SA and while the "Butcher's birds" may be struggling, his son James has just been selected for the EP u-15 cricket side. James Rippon, a name to watch for the future.
After a couple quick drinks, it was off to the good old Monument for the Awards dinner.
What an evening.
The students hosted the evening (which was very refreshing) and it didn't drag on like some award dinners can.
The food was also tops.
Roasted Portuguese chicken with herb gravy and Monkey Gland fillet steak with roast paprika potatoes. (We never got that in our student days)
Sportsman of the year: Cody van Wyk (Hockey)
Sportswoman of the year: Natalie Ross (Duathlon)
Rhodes sport still does exceptionally well despite its numbers, financial challenges and location and I was proud to be an Old Rhodent.
My old "res", Smuts House also won an award – can't remember what it was as our res was only renowned for the "Cotch Creek Classic."
That's now what you may think it is – it's the three hole golf tournament we named around the res and creek, which was a daily ritual after lunch.
It all just brought back so many fond memories.
The only beef I had on the weekend was with SAA and the flight from JHB to Port Elizabeth.
It was about the fifth time in as many years that I've been bumped off that flight due to it being overbooked.
Then to be told by a grumpy old man in a red jacket (SAA manager) that you have to "check in online" if you want to guarantee your seat.
So, a confirmed seat is no longer good enough and what about the people who don't have access to online?
Come on SAA, lift your game.
Luckily, the Albany quickly took away that irritation and unnecessary stress.
For more articles by Graeme Joffe SUBSCRIBE to SportsFire Daily.
Source:SportsFire Daily