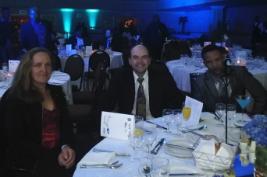 Rhodes > JMS > Latest News
Grocott's scoops award for third time
Date Released:
Tue, 26 May 2015 13:04 +0200
By Ettione Ferreira
For the third consecutive year, Grocott's Mail has reaped the rewards of their hard work at the MDDA-Sanlam Local Media Awards. They again won the award as South Africa's best small independent commercial newspaper. The ceremony took place at Emperor's Palace in Johannesburg on Friday 22 May.
The judges said Grocott's Mail was "particularly strong in general presentation, layout, news presentation and content covered. It consists of a good balance between news content and advertising and has good visual presentation, with good input of pictures."
They went on to say that "the winner shows a high level of consistency in all the editions submitted."
This year there were 800 entries in a variety of categories. Grocott's Mail journalist Malibongwe Dayimani and Sports Editor Stephen Penney were finalists in the personal finance category and sports photographer of the year category respectively.
The recipe for success, according to Sue Maclennan, editor of Grocott's Mail, is co-operation and teamwork, "Co-operation is the ethos required for a media organisation that serves a local community, as Grocott's Mail does.
"In the environment of shrinking revenues and growing competition, co-operation is basic to the survival of a small media business like ours – both within the organisation as well as with partners and competitors. We're all breathing the same air, drinking the same water.
"It's that model, with teamwork at its core that makes Grocott's Mail sustainable in a challenging and competitive media environment."
Visit Grocott's Mail's website for the latest in Grahamstown news and details on how to subscribe.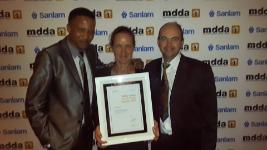 Source:Rhodes JMS